Datacard Corp USA, the world leader in secure identity and financial card issuance systems, has conferred two awards on Data Management Systems Ltd (DMS) its local distributor, for its outstanding achievements in selling and successfully implementing hudreds of secure card based system solutions.
The awards were presented at Datacard's Annual Distributor Conference and Meeting held in Phuket, Thailand, last week. One of the awards received by DMS was the prestigious 'Breakthrough' Award conferred for winning large contracts for new business in a relatively small market when compared with other larger and more developed markets in the same geography such as China, India, Japan, Korea, Indonesia and Thailand. DMS is a pioneer IT solutions provider and systems integrator, which introduced and has been transferring cutting edge IT solutions to Sri Lanka since 1977.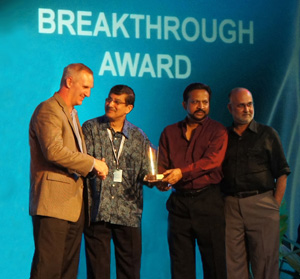 Picture shows from left -- Kurt Ishaug, CFO of Datacard USA handing over the Breakthrough Award to Ruvan Ratnatunga, Chairman, DMS and Naresh Fernando, General Manager, DMS, while Shirish Rege, Regional Director South Asia for Datcard USA, looks on.