India's largest BPO firm Firstsource Solutions on Tuesday entered into a joint venture with Dialog Axiata acquiring 74% of Dialog Business Services and establishing the new venture as Firstsource Dialog Solutions with an investment of US$1 million.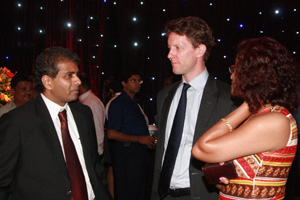 Dialog Axiata Group CEO Dr. Hans Wijesuriya and Firstsource Solutions CEO and MD Matthew Vallance (centre) in conversation at the party that followed the launch.Pic by J. Weerasekara
This new venture will take on the existing 417 Dialog staff who in addition to serving local BPO clientele will also manage Dialog's customer contact management operations, across its mobile, fixed line, Pay Television and broadband businesses.
This will give Sri Lanka the leverage of positioning its workforce in line with 26,000 employees of the BPO firm that also has operations and corporate presence in the US, UK, India, Australia and the Philippines set to become the country's largest contact centre operation to make a significant contribution to the BPO sector going forward.
The BPO and IT enabled services sectors are expected to be among the highest growth sectors to the Sri Lankan economy. At a press conference, Dialog Axiata Group CEO Dr. Hans Wijesuriya observed that this was a strategic move as the company intended to engage the required expertise and market that it richly deserves in a bid to join hands with best in class in BPO to become a regional leader.
Firstsource Solutions aims at servicing the Sri Lankan BPO market and then the international market.
Separately Dr. Wijesuriya told the Business Times that they do not have any plans to change the existing shareholding structure noting that the reason for the venture was mainly because they believed that they needed to "break free a bit."
This new venture is expected to contribute 10% to the Firstsource Solutions' Asian Business Unit headquartered in Mumbai, India. The Sri Lankan market is a natural extension of ABU that targets the Asian geography.
Firstsource Solutions has set sights on targeting the core sectors of initially telecom with this new venture and later banking and financial sector, the company's CEO and MD Matthew Vallance told the Business Times.
He noted that they would be exploring the market in a few months time in this regard. It was noted that Firstsource Solutions believes this is an important step in expanding its presence in the South Asian market.
"The stability of the economy, support of government bodies and the availability of a highly skilled talent pool were our key drivers to invest in this market. We are confident that this venture will deliver world class services within the sector," Mr. Vallance said.
Firstsource is a leading global provider of customized BPO services to the healthcare, telecom, media,banking and financial services industries. Its clients include Fortune 500, FTSE 100 and Nifty 50 companies.