The Trincomalee district rice mill industry which suffered in the conflict and natural disasters is to be given a boost under a special project. The title of the project is "FCCISL-Chamber-Network Engagement in Economic Rehabilitation Project" and scheme is funded by the European Union (EU) under its EU ACAP Programme-European Assistance for Conflict Affected People and implemented by OXFAM.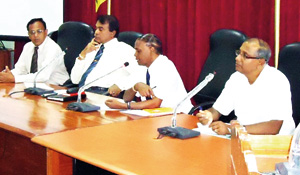 The Government Agent with his officials at the meeting.
Seventy one rice mill owners attended the inaugural session of the project that was held at the conference hall of the Trincomalee District Secretariat with the District Secretary/Government Agent Major General (Retd) T.T.R.de Silva in the chair.
The Government Agent outlined the objective of the project saying it was to promote and uplift the local rice mill industry that had experienced several hardships in past due to conflict and natural disaster. He added a district plan was needed in this regard.
He requested the local rice mill owners not to send paddy outside the district but to see the paddy being turned into rice in the district itself. Rice mill owners aired their difficulties and shortcomings they face in carrying out their trade at the request of the Government Agent.
They wanted financial assistance from banks and uninterrupted three-phase electricity supply to mills located in rural areas. The Government Agent had issued instruction to his village level officers to hold mill owners' meeting at divisional level first to identify the shortcoming faced by them. It was announced at the conclusion of the discussion that the Trincomalee District Rice Mill Owners Association was to be formed shortly.
Representatives of People's Bank, Bank of Ceylon and private bank-HNB and other state and other agencies participated in the discussion.