A much needed topic on 'Company turnaround ' was the subject of an interactive lecture given at the Sunday Times Business Club meeting held at the Taj Samudra Hotel last week. The speaker, Ed Fleischer Director and Chief Consultant of Teleios Global conducted a highly participative discussion imparting the values of new management techniques which could be introduced to improve the performance of any organization no matter what the businesses were.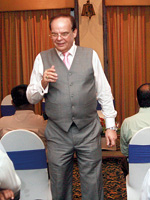 Ed Fleischer
Covering the topics of tools required to achieve a successful company turnaround Mr Fleischer, a US national, spoke of the 'Six Sigma' analysis and inquired from the audience how many of them there that day had used this powerful management analysis tool. 'Six Sigma' seeks to improve the quality of process outputs by identifying and removing the causes of defects (errors) and minimizing variability in manufacturing and business processes.
It uses a set of quality management methods, including statistical methods, and creates a special infrastructure of people within the organization who are experts in these methods. Each Six Sigma project carried out within an organization follows a defined sequence of steps and has quantified financial targets (cost reduction or profit increase).
Quoting from an example of a company handled by Teleios Global, Mr Fleischer said, that in this case they used the 'Six Sigma' methodology and it really worked. However after a point after having started getting their production level up from 40-45 % to 90 %, it leveled off. Then it collapsed. Why? Because of utilization as utilization means running the machines 24/7 and measuring the output against it. On analysis it was found that the barrier was at the marketing . Marketing was loading enough to meet the new utilization, and were still loading at the old utilization, he said.
Performance Management Systems
On inquiring on how bonuses were decided in companies it was observed that in most organizations it was the head of the organization who decided. In a manufacturing concern one could use a piece rate method to determine the bonus. "In a company where we replaced the hourly rate method by the piece rate we were able to raise our productivity by 40 %. The other benefits of the piece rate over an hourly rate is that production increased, the workers earned more, they went home earlier and it was an all round success. In applying this method to different sections of a manufacturing company we studied every machine working, thoroughly. We cut down the waste of time spent on changeovers and other routine operations. The machine operators were penalised for any drop in production," he said.
The next level of these incentives are at the management level. Here a five point management level is given to measure against all members involved in the management of the organization. When situations arise where the systems in place do not seem to yield the desired production and growth then it is time to apply these methods, such as the 'Total Cycle Time', the Lean Methodology and the 'Six Sigma' methodology. It yields results every time.
Mr Fleischer said that these principles could be applied to almost any situation. Whether it be design or manufacturing based organizations they could be all improved greatly and made more profitable by these methods. The club is hosted by the Taj Samudra and co-sponsored by Hameedia.