The first phase of a 3 year-long German Federal Government funded project worth Rs. 275 million (Euros 1.7 million ) to revive livelihoods in the Vanni was launched last week in Colombo.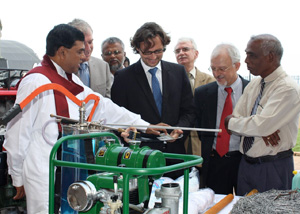 Checking the equipment
German Ambassador to Sri Lanka Jens Ploetner handed over agricultural equipment worth over Rs. 48 million to Economic Development Minister Basil Rajapaksa as part of this larger project to revive livelihoods of displaced families resettled in Mullaitivu and Kilinochchi, the embassy said.
The project spanning from 2010 to 2013, focuses on three main components. It has invested Euros 850,000 to revive the agriculture and fisheries sectors and Euros 500,000 to rebuild the educational infrastructure in the region.
It also focuses on long term community development by providing counselling facilities and providing greater opportunities for women in terms of access to livelihoods, education and enhancing their civic participation, it said.
Over 3,000 returning families in Kilinochchi district and 1,700 in Mullaitivu would benefit from the project. Currently a needs assessment is being done to include beneficiaries from Vavuniya as well.