Anusha Kodituwakku and Nilmini Jayasinghe, the two women pugilists representing Sri Lanka at the 6th AIBA Women's World Boxing Championship which got underway in Bridgetown Barbados on Thursday, cleared the first hurdle by winning their preliminary round bouts.
Anusha was the first to record a win, which was on the first day of the meet when she overcame Jessica Ponce of USA in the 45-48kgs Light Flyweight category. Anusha took the bout, with the judges giving an 8:1 score in favour of her. Anusha was to meet Chinese champion Jiaoling Luo yesterday. Meanwhile Nilmini had a much easier passage when she outfoxed Irish boxer Ciere Smith with a comfortable 14:1 difference in the 51kg Flyweight bout. Nilmini's next contest is going to be a tough one as she will be facing the 2008 world champion Cancan Ren of China tomorrow.
The Women's World Boxing Championship has attracted over 300 boxers from 75 nations which is supposed to be the highest number of entries received in women's boxing history. Prior to that AIBA launched a training programme for the participants called "The Road to Barbados". Anusha and Nilimni were among the 40 boxers from each AIBA Confederation to be selected.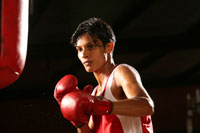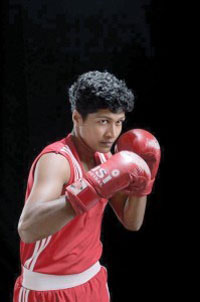 Sri Lankan boxing duo Nilmini Jayasinghe and Anusha Kodituwakku