In a scrappy one sided clash, the Old Bens emerged comfortable 99-61 winners against Don Bosco, during their 'B' Division Carlton Basketball match played at Police Park yesterday.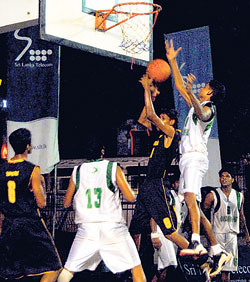 Old Bens (White) and Don Bosco battle for the rebound. Pic by Sanka Vidanagama
There were plenty of errors from both sides, but after the Bens were able to get things together they launched a solid offensive assault on their opponents to gain the lead and keep it throughout the remainder of the game.
The Bens were bolstered by some scintillating drives to the basket by two of their leading scorers, Sanjay Gamlath, who finished with 21 points and T. de Mel, who registered 16 points. Lasantha Siriwardene added to the Bens offensive arsenal by sniping 17 points from the field.
The men from Don Bosco were only ever within touching distance during the opening minutes of the game, when they trailed 8-9. However as halftime drew closer the Bens were slowing beginning to stamp their dominance over the struggling men from Bosco. When the short whistle eventually came the score was 46-29 in favour of the Bens.
The only positive Don Bosco can take away from their performance was the brilliantly gritty display by D. Fernando, who put in a huge effort to walk away with 18 points. He was assisted by W. Akila who chipped in with 10 points.