The annual five-a-side St. Eugene's Basketball Tournament will be conducted this year on the 2nd and 3rd of October at Depot Police court (Police Park), Bambalapitiya. The tournament conducted by St. Eugene's Association of Former Oblate Seminarians will see 24 teams competing in the men's category. There will also be a women's tournament.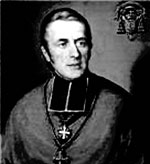 St. Eugene De Mazenod
Wattala BC are the defending champions of the tournament. The men's tournament will strictly be a 'B' Division tournament and any player who has represented the national basketball team in the last five years or played in an inter-club 'A' Division tournament or Mercantile Services 'A' Division tournament in the same period is ineligible to play the tournament. The women's tournament, however is open for all players.
The teams that are interested in taking part in the tournament are kindly requested to contact the Tournament Secretary on 0777-713 400.
The tournament is named after St. Eugene De Mazenod, the Bishop of Marsailles, who formed a religious congregation of priests and brothers in France. The first set of missionaries were dispatched to Sri Lanka way back in 1847 and among their missionary works are putting up some leading education institutes in the country. St. Peter's and St. Joseph's Colleges in Colombo and St. Patrick's College in Jaffna are some of them.