Skipper Chamod Pathirana and Nuwan Kavinda came to the rescue of S. Thomas' who were in a perilous position. Made to follow the Thomian pair battled on to make sure of a draw in their Under 19 inter-school cricket encounter against St Anthony's Katugastota concluded at Mt Lavinia yesterday.
The pair saved the Thomians with a match saving 91 runs partnership for the sixth wicket. Made to bat the second time with a deficit of 138 runs, they joined together when the home team was struggling on 29 for 5, after right arm pacie Kanishka Ranaraja had ripped through their top order batting claiming all the five wickets.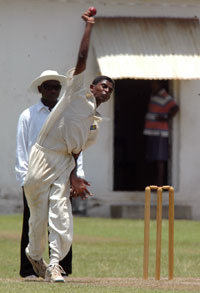 Right arm spinner Aravinda Premaratne who took seven wickets in the Thomian first inning in action.-Picture by Ranjith Perera
The duo frustrated the Antonian bowlers for nearly two sessions before they were separated. With the dismissal of Nuwan who made a patient 70 that included nine boundaries, Chamod remained unbeaten on 50 which had three boundaries helping the home team end the day on 151 for 6.
The morning session of play belonged to Antonian right arm off spinner Aravinda Premaratne who did the early damage for the Thomians. Aravinda with a five wicket haul in this session sent the home team reeling to 42 for 6. Aravinda followed it up with two more wickets later in afternoon but could not prevent the Thomians from reaching the three figure mark but ended with impressive figures of 7 for 42 and with support from right arm spinner Tishan Hewage who bagged the other three wickets for just 16 runs they restricted the Thomians to a score of 123.
The Antonians on the opening day put themselves in a strong position by making a formidable score of 261 for 9 declared which came on the back of three half tons from HiranWickramasekera, Pulasthi de Silva and Aruna Bandara.
St Anthony's 261 for 9 declared (Hiran Wickremasekera 65, Pulasthi de Silva 53, Aruna Bandara 51, Kanishka Ranaraja 29: Chamod Pathirana 4 for 57, Neomal Wickremasekera 3 for 69)
S. Thomas' (0/0 overnight) 123 (Asiri Wickremanayake 36, Umesh Fernando 23: Aravinda Premaratne 7 for 42, Trishan Hewage 3 for 16) and 151 for 6 (Nuwan Kavinda 72, Chamod Pathirana 50 n.o.: Kanishka Ranaraja 5 for 43)
Trinity win at first outing
By Aubrey Kuruppu
The Trinitians having slightly the better of the exchanges on day one, came storming back to demolish the Sylvestrians by an innings and 52 runs at the Asgiriya Stadium yesterday. The wrecker was right arm off spinner Janishka Premasinghe who took 7-19 to go with his first innings effort of 4 for 45. (Match bag of 11 for 64)
Skipper Akila Jayasundera led from the front (this time with the bat!) as he smashed 55 which contained eight fours and a six.
Rasitha Jayatunge made a well-compiled 43.
St Sylvester's 149 in 71.4 overs (W. Wijesinghe 18, S. Dissanaike 35, D. Malalasena 47, A. Fernando 3 for 10, J. Premasinghe 4 for 45, A. Jayasundera 2 for 25) and 37 in 22.3 overs. (T. Gunaratne 10, J. Premasinghe 7 for 19, H. Wanniarachchi 2 for 7)
Trinity 10 for 2 contd. 240 in 47-2 overs (H. Wanniarachchi 19, R. Jayatunge 43, K. Jayasuriya 17, K. Atugoda 16, A. Jayasundera 55. T. Bandara 34, A. Fernando 35 n.o., N. Kandaddarage 2 for 56, F. Ahmed 3 for 70)
Matale Thomians take honours
St. Thomas' Matale paceman Mohamed Razick (7 for 50) and Lahiru Madhushanka (3 for 31) combined to shoot out the Rajans for a dismal 105 in their drawn inter-school match played at Lake View.
Dharmarajah's bowlers led by paceman Nuwan Karunaratne hit back strongly to restrict the Thomian lead to just 29.
Rajan Skipper Hemal Munaweera made 41 in the first knock, while Sasith Gunasekera scored 51- the highest score of the match,
The Rajans conceded the first innings lead in the corresponding match last year, too.
Dharmaraja 105 in 38.5 overs (H. Munaweera 41, S. Gunasekera 15, M. Razick 7 for 50, L. Madhushanka 3 for 31 and 110 for 3 in 26 overs. (K. Herath 27, S. Gunasekera 51, L. Madhushanka 3 for 32)
St. Thomas' Matale 134 in 67 overs (L. Madhushanka 27, S. Adikarinayaka 24, R. Ranaweera 14, N. Karunaratne 5 for 31, H. Munaweera 2 for 27, A. Jayatilleka 3 for 41).