Sri Lanka's greatest seam bowler in history Chaminda Vaas says that he was never approached by any bookmaker during his sixteen-year international career for Sri Lanka.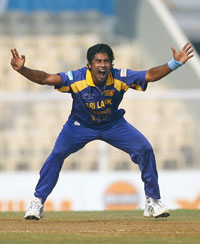 The Lankan opening bowler who played in one hundred and eleven Test matches and 322 ODIs and bagged 355 Test wickets and 400 ODIs scalps speaking to the Sunday Times said "During my career that spanned sixteen years, I was never approached by any match fixers and I even was aware of such an occurrence only during the latter stages. But, very honestly I have to say that if any one is approached he must first ask himself whether it is the right choice that he is making and turn to the one who you believe in and ask the same question again.
"I find it not worth. What you make illegally is a short gain it will not take you anywhere, it is with great difficulty that one makes the grade to represent your country and that is an honour isn't that enough. They also must think of other players who have missed the bus even if they were as good as you in whatever skill. Even if you are approached the path is very clear – go to the authorities and report the matter and then the matter is off your hands it is as easy as that".