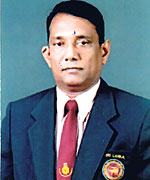 New Head of the Volleyball Selection Committee, N.D. Gunasena
Former National volleyball player and administrator, N.D Gunasena, was recently appointed head of the national Volleyball Selection Committee by Sports Minister C.B Ratnayake. Also a distinguished volleyball coach, Mr. Gunasena will head a committee which comprises of Ranjith Premaratne, K.N Ariyasinghe, Chamila Nadee Herath and Udeni Priyadarshani.
Mr. Gunasena also functions as the District Sports Officer at the Sports Development Department Headquarters. Sri Lanka Volleyball Federation Media Officer, Squadron Leader Padman de Costa, said that all the members of the "volleyball fraternity" will place a great deal of hope and expectation on the new committee to make sound selections, for the squads of both the indoor and beach volleyball teams.