Last week, we talked about the under twenty and the climb to third place on the Junior Rugby map of Asia. This week we have as news that Sri Lanka has got the seventh place at the shanghai Sevens. This was an ARFU sevens ranking tournament. What concession should we make after this performance?
To me it is the need to plan and develop a team that can face the sevens circuit in Asia. It is where the national performance should come first irrespective of what politics we have at other levels. If we are able to overcome this hurdle which has been bugging us for some time then we can be up there. We have to get rid of the thinking "If X plays we don't play" or "if B is captain or not made captain we don't play". Intriguing medical situations that surfaced post team selection suggests that we have not grown despite what has happened in the past.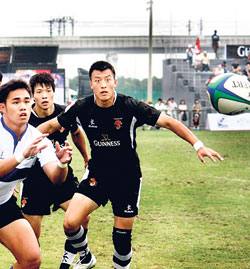 Action at Shanghai Sevens
From the look of what happened in the under 20 we seem to have the possibility to challenge the best of Asia. It is yet a question of 'if'. As I have said previously the pressing need is to plan and develop. In talking about mini rugby I said, coaches take a big player and centre all round him. Similar things happen in U20 as well as club rugby. Your best player in school might be staying out of rucks and mauls most time to crash taking a few opponents with him. Else he would bulldoze his way through because of sheer weight and strength.
Think and revisit and this may be a pattern that you may have seen. The end result of win succeeds as far as the cup goes. At the national level as you meet better teams and strong men the presence is more required at a ruck or maul. Involvement in using the talent, skills and strength is important than being one man army.
If you don't get ball at the contest then what are you going to do. This is not easy as during the whole season you have been the hit man. While there are players to do what is required to win the school or club a cup the requirement at the highest level is different. That is why I say the pools must be selected and we should practice more keeping in mind what your plan is. The work rate and method of the best player at his individual school or club game may not be what you require for the country.
We still have another chance to get on the circus as we will have other sevens at the commonwealth games and the one played on Colombo: late November. We went to Shanghai with only a domestic sevens tournament and no competition with teams of like. We will probably go to the commonwealth games with only Shanghai Sevens behind us and have to meet India and England.
What is needed is to get the boys that toured China and a few more to start working to get onto the top in November. The margin of our loss against China and Korea who were the finalist was not huge. SL lost to Korea by one goal and to China by a mere two points. Then why did we loose with a huge deficit in our first match against Hong Kong. Probably we thought that we are against an unstoppable force. Then there is a stalemate. Probably we saw stars in the size. If you had planned and practiced to stop the unstoppable we could have done better. The team that will win at the end is the one that has planned and practiced to stop the unstoppable.
Closing that gap means a lot more sevens and more competition. Take the case of Malaysia who beat Japan in the pool "A" match but lost the second time around in the 3rd place play off. They have planned their future which includes playing non nationals using the residency criteria. If that is what has to be done you got to do it. If Sri Lanka starts now the ability to play in the national team will be probably three years from now.
Sri Lanka too can bridge the gap if we start from where we left in Shanghai. Will we do that? The hindrance to progress that has lead to our down fall is the myopic thinking where petty politics takes precedence over the larger picture. That is because we refuse to see that picture. Think practically and truthfully. I wondered why somebody ever said "if we do well in Shanghai we will get a chance in to get to the Hong Kong Sevens. From what I know the teams for Hong Kong was closed long before the China tour. Conclusion when you read this type of statements is that either you don't know what you are talking about or that you think everybody is gullible and believes in the inaccuracies that are uttered.
*Vimal Perera is a former Rugby Referee, coach and Accredited Referees Evaluator IRB