Australia's self confessed "cricket tragic" John Winston Howard has once again been taught the lesson that he should have learnt a long time ago. The last general election had him voted out of office as the majority of Aussie's had had enough of his arroance. Now, seven of the ten full member nations of the ICC have dealt another blow that should finally take his mug off the front pages of all newspapers.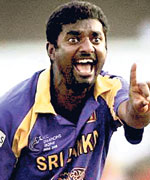 Sri Lanka's spinning sensation - Muthiah Muralitharan- had to cope with little Johnnie's comments about his bowling action at a time when the cross he bore was so heavy - until he was finally cleared of any wrong doing in his bowling action by the ICC itself.
John Howard had every opportunity to apologise to Murali at the Tsunami Cricket Match played in Melbourne in 2005 - instead he chose to ask that the new kid on the block Michael Clarke- be brought up to the President's box to speak to the then Primate Minister.
Murali went on to write his name in the book of legends when he broke every spinning record. John Howard was thrown out of office and now has been thrown out in his attempt to become the Chairman of the ICC. To blame it on Robert Mugabe is like blaming Saddam Hussein for the weapons of mass destruction that have still to be found.
CHARLTON HESTON in INDEPENDENT 21st July 1999 said "The most important thing a man can learn - the importance of three little words: "I was wrong". These words will get you much further than "I love you".
Quintus de Zylva Chairman Sri Lanka Cricket Foundation of Victoria.