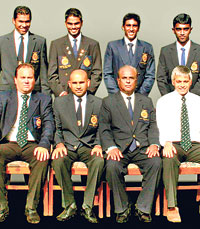 The Sri Lankan Davis Cup team.
Sri Lanka will clash with Hong Kong in an Asia-Oceania Group two Davis cup encounter at the Sri Lanka Tennis Association courts on July 9 and 11. This fixture comes on the heels of a loss to New Zealand earlier in the year and a victory against Hong Kong will ensure that Sri Lanka hold their Group two position.
Sri Lanka Tennis President, Maxwell de Silva is confident that Sri Lanka will emerge victorious owing to the detailed and professional training programme the team has been subjected to. The last time Sri Lanka met Hong Kong in a Davis Cup match was in 2005, and they were comprehensively beaten 3-0. Two members from the current team, Harshana Godamanne and Rajeev Rajapakse, participated in that match and will no doubt be seeking revenge for their bitter defeat.
The Sri Lankan team will comprise Harshana Godamanne, Rajeev Rajapakse, Thangarajah Dineshkanthan and Amrith Rupasinghe. Their captain Asiri Iddamalgoda will not be playing.
Hong Kong's team will be made up of Hiu Tung YU, Martin Sayer, Gilbert Wong, Kelvin Siu Fai Lam, Ray Wing Lun Lam and Derek Hay Ming Ling.