There was a huge confusion in the cricketing circles over a Sports Ministry communiqué regarding the confirmation of the position of Suraj Dandeniya as the Director of the SLC ICC secretariat which was released to a section of the press on June 2.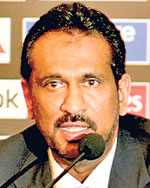 Suraj Dandeniya
While the statement denied that there was a change in the position of the post of the Director at the ICC secretariat it also said that Suraj Dandeniya was placed in charge of the work regarding the 2011 World Cup and all other preceding series and added that this was done according to the ICC criteria.
When inquired from the Director of Sports of the Ministry of Sports S. Liyanagama about the contents of this letter, he said that he was oblivious to any such circular and added that the signatory of this communiqué – Kumaradasa Giribawa (Director – Media and Information of the Ministry of Sports) had no authority to issue such a statement on behalf of the ministry and added: "This was brought to my notice only on Tuesday (June 29) and until then I was not aware of the existence of this communiqué."
Secretary of SLC Nishantha Ranatunga also stated that he was not aware about the existence of this letter that was issued to a section of the media.
Then when asked the SLC secretary on how Dandeniya attended the Inaugural Interim Committee meeting when he was not a member, Ranatunga replied saying that Dandeniya was invited to attend the meeting with the consensus of all the IC members as he is the head of the ICC secretariat and he has been a member of the SLC tour organizing committee from the time of Gunaratne Weerasinghe who headed the TOC before the re-structure.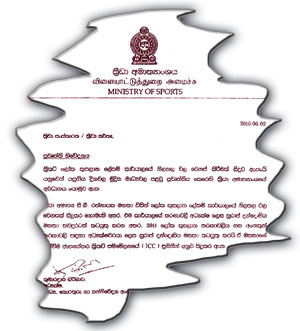 However it was learned that the members of the SLC Tour Organizing Committee during that time comprised of Gunaratne Weerasinghe (Chairman), Rochana Jayawardena (secretary), Kapila Dandeniya, Ruwan Gallage, Wansa Hettiarachchi, Chandra Fernando, Chandra Wickremasinghe, Lalith Wickremasinghe, C.A.N. Perera and Dunstan Guluhewa. But, we also learned that Dandeniya attended TOC meetings on invitation which does not mean that he was a member of it. Subsequently Minister C.B. Ratnayake on Friday in an unprecedented move sacked the incumbent Tour Organising Committee and named a new TOC that comprise Chandana Liyanagunawardena (Chairman), Dunstan Guluhewa (Secretary), Chandra Fernando, Manuja Kairyapperuma, Anil de Silva, Anura Basnayake, Dr. Venkatesural and Maxi proctor.
In general practice it is the job of the interim committee to appoint a Tour Organising Committee, but, now looks like the Minister has taken over that job too. But, still Suraj Dandeniya is not a member of the TOC.