Some times the most unexpected occurs at most unexpected moments. Evidently it seemed that CR was heading for defeat at the hands of their arch rivals once again, but what happened at the last second will be the talking point on the bar stool for a long time. But Kandy managed to win the Caltex League for a record 10th consecutive time at Longdon Place yesterday.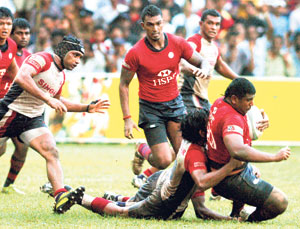 CR prop with the ball is held by the Kandy defense with help coming for the bulky CR forward. – Pic by Ranjith Perera
It was CR & FC who edged out Kandy SC by 16 Points (1 Goal, 3 Penalties) to 14 Points (1 Try, 3 Penalties)
At the short breather it was Kandy who led 11-9.
The game was played under wet conditions and the ball handling was too difficult for the three quarters'. This rain was welcomed by CR & FC who knew Kandy had a star studded national three quarter's under their belt. CR & FC forwards had a slight edge over their opponents but in the loose it was Kandy SC who had the edge. Both sides defence was rock solid but with number of handling errors. This made a slow game with the referee blowing whistle at most of it.
CR & FC full back Reza Mubarak missed a sitter penalty in front of the posts when Kandy SC scrum half Roshan Weeraratne was spotted off side. The kick hit the uprights and bounced backed to play. Saliya Kumara drew first blood for Kandy SC when CR & FC line was spotted off side. He was on target with a 45 meter kick at Goal.
Seven minutes later Kandy SC moved their three quarter's. With the ball changing hands with Sanjeewa Jayasinghe, dashed nearly 40 meters to touch down a magnificent try. Saliya Kumara failed to add the extra points.
Five minutes later Reza Mubarak was on target with a penalty kick to cut the deficit 8-3.
Reza Mubarak was on target once more in the 25th minute after missing two more easy penalties to close the gap at 8-6. With Kandy SC line spotted off side and Reza took CR & FC ahead with a 30 meter penalty (CR 9, Kandy 8)
But the lead was short lived as Saliya Kumara was on target with a penalty kick to take "Lemons' 11-9 favouring Kandy. Second half saw scrappy play by both sides with aimless kicking and players going for man instead of the ball. Saliya Kumara took Kandy further ahead through a neat penalty kick at goal.
Then came the best part of the 80 minutes of game when Kandy SC worked their line with the ball changing hands It was former Isipathana player Viswamithra Jayasinghe who intercepted a Kandy SC pass and dashed nearly 80 meters to score under the posts. Reza Mubarak added the extra 2 points to take a 16-14 win over the League champions.
Two Kandy players and one player from CR & FC was Yellow Carded. For CR & FC Ishan Noor, Sharo Fernando and Skipper Dushantha Lewke had an outstanding game. For Kandy SC it was Fazil Marija, Sean Wijesinghe, Pradeep Liyanage and Sanjeewa Jayasinghe stood out.
Referee: Rohan Nishantha
Touch Judges - Irshad Cader & Pradeep Fernando.