National swimmer Heshan Unamboowa proved his dominance by setting three new meet records during the 37th Sri Lanka Schools Swimming Championships, held yesterday at the Ananda College swimming complex.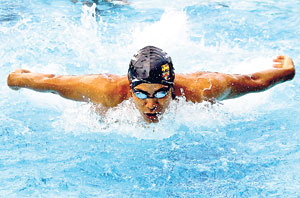 Heshan Unamboowa swimming in the Boys' 50 m Butterfly. Pic by Sanka Vidanagama
Unamboowa, competing for Trinity College, swam the Boys' 100m Butterfly in 1 minute, the 50m Butterfly in 27.82 seconds and the 50m backstroke in 27.75 seconds. His efforts have placed Trinity College in fourth position with 280 points, behind Ananda College, Royal College and St.Joseph's College, who are leading the Boy's standings with 482.50 points.
Diluka Thibbotumunuwe further aided in the day's record breaking by registering an impressive 32.11 seconds in the 50 m Breaststroke. The afternoon's standings for the boys segment only featured two International schools within the top 10. These were Lyceum International School, Wattala who were eighth with 94 points, followed by Asian International School, who sit one spot below them with 82 points.
For the girls, Miniruwani Samarakoon from Girls' High School, Kandy proved to be the swimmer to beat in the butterfly event when she shattered two meet records. She stamped her authority on the 100m butterfly and 50m butterfly races by securing timings of 1.12 minutes and 32.73 seconds respectively. In the girl's 50m Breaststroke Dinushki De Livera set another record time of 32.32 seconds
Mahamaya College, Kandy sat comfortably on top of the girl's standings with a point tally of 428, over a hundred points ahead of Vishaka Vidyalaya who occupy the second spot.
The boy's Under 15 age group was another category which saw a new record being set up. Mathew Abeysinghe from Asian International School zipped through the 100 meters Freestyle event in 32.73 seconds. All the relay events are scheduled to begin today at the Ananda College pool. The tournament, which began on Friday, sees swimmers from the country's best schools competing for three days.