A focused side playing good rugby and committed to the task was what made the fresher laden Royal win the Bradby. That too with a handsome margin in a match played in Kandy. Royal who had a one point lead were never the favoured side to win the second leg. The determined performances of a disciplined side made them achieve what they wanted.
Their mandate was to play good rugby and win the game. Not question the referee or ask for a penalty where there is none. Neither was those entrusted with guiding the young issuing statements and blaming the officials without correcting their mistakes to take them to where they wanted to be. Their task was to win key cup games and that they did in style.
It is this inability of being focused on matters such as skill strategy etc; that makes one see a red herring in the form of a referee. People talk about why this went this way or that way and often concerns the referee. It does not matter whether he is a Sri Lankan or a Sri Lankan who has returned and offers his services or a foreigner who is come to referee.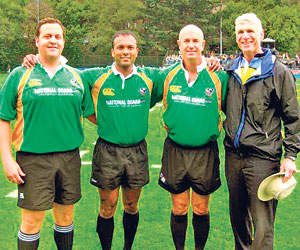 Aruna Ranaweera with his coleagues
We tend to find fault with referees on the basis of bias. When it comes to a visiting referee we love to build a story which will make some of the mystery writers' blush. Probably the halo effect: Thorndike explained as "a problem that arises when there is carry-over from one judgment to another.'
Postulating on the "Halo effect" I infer to those who love to accuse others "as a subjective bias arising from one's own trait extending to the judgment of another person." If not, why question everybody whoever takes the whistle. Locals are bad and biased they say. But when somebody from another country comes; the question is how did he come, why and who brought him. The best is to take to writing tall stories and support same with photographs and circulate to add spice to the story. Recently we have had a former Sri Lankan Referee Rohan Nishantha now with Australian Capital Territories Rugby Referees Society, here on a visit and lending time to referee. ACTRRS is in Canberra where they are more famous for Brumbies of Super 14 Fame.
The relationship with ACTRRS goes a long way and we had Michael Hall and Kim Lees who refereed as well as trained our referees in Sri Lanka. Kim subsequently rose to be the Australian Rugby Union National Referee Education Manager. Sri Lankans have also had the opportunity for working with Mick Keogh, who later became Referee Coach Manager for Australia. Sri Lankan products of that era reached the higher position in Asia as Referees, Referee Coaches as well as Referee Educators.
Referees who have visited in the past include John Bernard, Andy Melrose, Robin Goodliff, Tony Russel and Steve Savage from England. We have also had Ken Braxton, Dai Williams and Huw Lewis from Wales. Ponchai and David Wickam form Thailand as well as Micahel Mao from Taipei.
Recently we had Harry Mason from Singapore who was here to referee and managed the Kandy vs. Navy game. The association with Singapore has a history and we had Mathew Oakley a number of times. We have also had Sri Lankan referees officiating on an exchange programme with Singapore. Matthew is currently the regional Development Manager for Rugby in the Gulf. Harry Mason coming here is the result of such a relationship.
Unlike earlier when invitation of referees was made on personal knowledge, today you can look for a member of the ARFU referees committee panel. These will be the referees who will eventually referee the Asian 5 Nations. It is good for Sri Lanka to get to know how they referee. Harry is an ARFU Panel A referee and is also in the IRB sevens panel. Similarly we have had Toby Lothian of Hong Kong, Scotty Herbert and James Fitzgerald, of the Gulf who are also Asian Panel referee visiting Sri Lanka. We have also had Tazio Hrabayashi who is in the Asian Panel of referee and is active in the IRB sevens circuit
Yet we ask questions and speculate as though this the first time that we have had visiting referees of Sri Lankan decent or otherwise. This has happed for well over a decade. We had our own C.H. Seneviratne who was involved with Northern Territory Rugby, where he liaised as Referee Development Officer with the Australian Rugby Union. Subsequently he was appointed the Head Referee and Coach of Referees.
He was also the President of the Northern Territory Referees' Association. Another Sri Lankan we had was Asela de Silva of the Victorian Rugby Referees spending time from his holidays to referee in Sri Lanka.
It was also interesting to read about Sri Lankan born Aruna Ranaweera an old boy of Trinity College who at the moment stands on a high pedestal in the refereeing circuit in the world. Aruna I believe has reached the highest level any referee of Sri Lankan decent has reached. Even if Aruna were to be in Sri Lanka and were to referee we will still ask questions. At least one will be whether he is registered? I wonder whether all those umpires who come and officiate in Sri Lanka are registered. If that is the law then why not do it there too.
Whatever it is, the law or simple process requirements must be there to facilitate and not to hinder. As a referee I spoke to several people who will continue to talk as we continue with our job.
*Vimal Perera is a former Rugby Referee, coach and Accredited Referees Evaluator IRB