To many Sri Lankans who read this piece, Indian-born but now US-based Dr Ram Charan, who had a whirlwind 24-hour business improvement session with apparel exporter Brandix in Colombo on Monday, is one among many business consultants living out of a suitcase, crisscrossing the world advising global companies.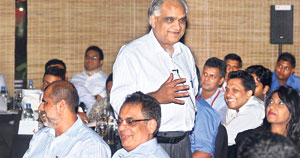 Dr. Ram Charan with Brandix staff
However to others outside, he is also the global business consultant who doesn't actually live off a suitcase. His assistants in Dallas, USA courier his clothes to the hotel room – wherever he is - and he returns the dirty clothes the same way.
Dr Charan laughed when asked about this, during a session with Colombo journalists at Brandix's high-tech office complex at Ratmalana. Why not buy a set of new clothes whenever he lands in a city? "It's time consuming and more expensive, it costs $15 a shirt," he said with a smile. The US consultant, who has tutored many Fortune 500 companies, spent a whole day with Brandix management aiming at taking them to the next level from being a world class organization right now. On Monday evening he was helicoptored from Ratmalana airport to Katunayake airport to catch a flight to New York.
Dr Charan said Brandix has a world-class facility with a very, very professional management. "Such a team is able to handle any crisis in markets or management," he said. Though not able to visit parts of the country during a 24-hour visit, Dr Charan, visiting Sri Lanka for the first time, said he was happy to see Sri Lanka on the growth path, on the 'path of transforming your economy.'
"There seems to be a passion here to take this country to the next level particularly in the economy, education, and try to figure out how to position Sri Lanka in the changing world," he said.
Some excerpts from his briefing:
On Brandix and the apparel industry:
Brandix has a very forward looking, visionary and bold management and ownership to take the company to being number one in the world. The company is very customer oriented and is willing to make the investments that many of the apparel manufacturers are either not able to make it capabilitywise or not willing to do so. You are building a 'jewel' here on a world wide basis.
On industry challenges (GSP+):
Brandix has systems, feedback systems from the customers. In this business even if Europe was not going through this crisis, there are cycles – so the management knows how to adjust. The key here is that the management here has processes, systems to adjust as the volatility takes place … and they are world class.
A company like brandix has a customer base that is diversified. This company doesn't depend on one customer or one pocket of customers. So sustaining in adverse circumstances is not an issue here.
On the US recovery:
The real estate sector continues to decline while the retail sector is slightly better. Healthcare is out of control and too pricey. So while GDP looks good and stockmarkets looks good, unemployment is an issue and not improving in any major way.