Sri Lanka tourism needs to invest in a comprehensive marketing campaign through heavy investments in research and product development and a tagline, approved by the key stakeholders in the industry. In an interview with the Business Times, Chairman of Jetwing Hotels and the regional Pacific Asia Travel Association (PATA) Hiran Cooray said a tagline for the country is important.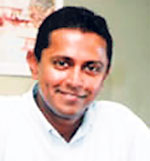 Hiran Cooray
"The more we continue without one, the more we miss out," he said. Tourism is on the rise in Sri Lanka with around 2 to 2.5 million tourists targeted by 2016 but proper research and planning is necessary.
The earlier proposed tagline 'Sri Lanka: Small Miracle' was abandoned some months back over issues relating to the use of the word 'small'. Mr. Cooray said the good news for Sri Lanka is that it is not overdeveloped particularly the North and East.
He said many countries in the region are aggressively planning and constantly introducing new products to the market. Singapore has recently undergone rebranding regarding its tagline and Malaysia and Indonesia, specifically Bali, are engaged in aggressive promotions. China and India, where inbound and outbound tourism has improved markedly, are also heavily investing in research, both in product development and marketing. Sri Lanka tourism must also create new experiences and be in the news.
Mr. Cooray said the fact that Sri Lanka hosted the International Indian Film Academy (IIFA) this week is an extremely positive development as India will be the largest market for tourists to Sri Lanka. It also has led to infrastructure development and improvements which will benefit the people. "Sri Lanka needs to have more mega events like this," he said.
On PATA
Mr. Cooray became Chairman of PATA in April 2010 and previously served as Chairman of the PATA Sri Lanka Chapter. He said PATA facilitates marketing and networking by helping destinations, the carriers and other stakeholders. PATA also has a tremendous research outfit called Strategic Intelligence Centre (SIC) which is a widely recognized and respected source of travel and tourism intelligence about the Asia Pacific region. PATA was set up in 1951 after a meeting between twelve Pacific nations in Hawaii and was then known as the Pacific Interim Travel Association. In 1953, it became the Pacific Area Travel Association.
Two more refurbished hotels for Jetwing
Jetwing Hotels is expecting to open two, refurbished luxury hotels in Negombo in December 2010. The first is Blue Oceanic which will be renamed Jetwing Blue with 119 luxury rooms and state of the art conference facilities. The second is Seychelles Hotel which will be renamed as Jetwing Sea with 84 rooms and a luxury spa.
Mr. Cooray said Jetwing has also acquired the Blue Lagoon Hotel in Negombo which is the first resort designed by famed architect, Geoffrey Bawa. Refurbishments will start on the property in July 2010 in collaboration with one of Mr. Bawa's associates to preserve the architecture and style. This property will be called Jetwing First Resort.
Jetwing is also rebuilding its Yala Safari game lodge which should be operational early next year. Mr. Cooray said the company also has plans for developing some properties in the East, specifically in Kuchchaveli and Uppuveli. He added that Jetwing is also interested in restoring old buildings in Jaffna and has already looked at property to build small boutique hotels.