The Richard Peiris Group (RPG) on the back of its impressive results of the last financial year is on a consolidation mode, while expansions are being looked at in their core business areas.
"Options (of expansion) are being looked at in the rubber and oil palm plantations in Sri Lanka and abroad," Pravir Samarasinghe, Group Director/Chief Operating Officer RPG told the Business Times.
He denied market speculation that the company was trying to sell some of its plantations. "We're holding on to the plantations. We decided to focus on our core businesses such as retailing, plantations, tyres, plastic and rubber related export businesses this year," he explained, adding that the company made a concerted effort to exit from the low yielding, unprofitable small businesses.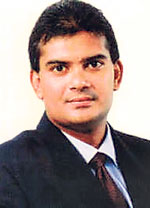 Pravir Samarasinghe
"This was a continuous process during the last two years. Starting from the media business we were in, we closed our travel and furniture manufacturing businesses, while downsizing freight forwarding and the construction businesses. In freight forwarding and construction, we're not taking on any new projects," he added. RPG made a net profit before tax of Rs. 1.1 billion, the highest profit achieved in the last five years. It also posted a turnover of Rs. 22.3 billion, up 6% from last year. Operating profit before interest and tax amounted to Rs. 2 billion an increase of 44% from last year. Profit from operations after interest amounted to Rs 1 billion compared to a loss of Rs. 58 million last year. The net profit for the year was Rs. 728 million compared to a loss of Rs. 305 million last year.
The company is exploring options to develop its under-utilised lands - 4.5 acres in Hyde Park Corner and 12 acres in Nawinna. "Many options to develop these and harness their true potential are now being looked at," Mr. Samarasinghe said. He added that RPG is also studying to develop a few new mini hydro sites at its plantations. Mr. Samarasinghe said that RPG's stockbroking firm is presently under incorporation. "It will be called Richard Peiris Securities (Pvt) Ltd., and will give us an avenue to get into the financial services industry, initially with fee based activities," he added.
Mr. Samarasinghe noted that during the last two years, RPG focused on reducing working capital, the cost base and enhancing margins in a bid to reduce its debt. "We managed to reduce borrowings by Rs. 2.6 billion in the last two years to Rs. 5.2 billion. This is a manageable gearing of less than 50%," he said, adding that further attention will be placed on debt reduction.
He noted that reduction in interest rates and raw material costs, especially of petroleum-led commodities for the plastic and rubber industries, also helped RPG better its performance. He said the company is very bullish and will be aggressively focused on retailing and will accelerate its expansion drive in the Western Province and some selected suburbs this year. "This year first quarter we saw a 26% growth in the retail business and in this post-war era consumer spending as well as consumer confidence has risen tremendously," he added.