Sri Lanka Telecom (SLT) recently conducted a book distribution programme in collaboration with the Asia Foundation, with the aim of Spreading the Wealth of Knowledge to schools in Jaffna. A total of 700 books were donated at the book distribution programme which was held on Saturday, May 8.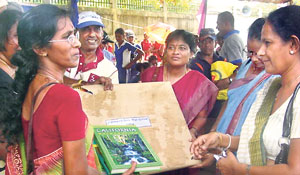 Receiving the books
Nine schools: Kokuvil Hindu College - Kokuvil, Sandilipai Hindu College – Sandilipai, Ramanathan College – Chunnakam, Sri Somaskantha College – Puttur, Union College – Thellipalai, Methodist Girls' High School – Point Pedro, Vada Hindu Ladies College – Point Pedro, Vempadi Girls' High School – Jaffna and Jaffna Central College, received books under this programme. The books distributed cover a range of subjects including Science, Geography, Arts, Sports, Engineering, English Language and many others for school children of all ages. Books on a range of topics were also given to the University of Jaffna as well as the Jaffna Public Library.
This book distribution programme goes in line with the company's plans to spread the wealth of knowledge to rural areas this year, in order to provide access to information and educational materials to all schools and educational institutes throughout the country, the company said.