Disgruntled depositors of the F&G Company are urging the Central Bank to crack down on the management of the company for misleading them and the regulator under the cover of re-structuring and re-naming it as the Island Finance Company as well as relocating it at the second floor of Green Lanka Towers, Nawam Mawatha, Colombo 2.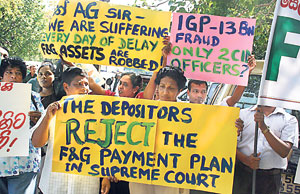 They noted that the company is now refusing to repay deposits on maturity stating short of funds, after issuing Certificates with Promissory Notes for accumulated interest. When asked, Director / Deputy General Manager (Finance) F&G Priyantha Dharmasiri said that they are still not in a position to repay the deposits on maturity as the company is still struggling to generate some business, although the F&G has been renamed as the Island Finance Company.
He pointed out that the company is paying an interest rate of 9% annually to depositors. He denied using the name Island Finance Company because of some legal problems. Central Bank officials said that they have not been informed of any of these issues. F & G's assets are in the range of Rs. 3.2 to 3.6 billion. They consist of two large housing projects in Talahena and Negombo, valued at Rs.1 billion, facilities such as leasing and hire purchase, which is valued at Rs. 1.9 billion, and properties collectively worth Rs. 400- 500 million.
Their liabilities come to around Rs. 3.3 billion, so the assets of the company are sufficient to cover the liabilities, a senior official of the Central Bank said. Depositors added the regulator should tighten risk management, governance and transparency rules against F&G which is being managed by the Central Bank-appointed Managing Agent, the Merchant Bank of Sri Lanka (MBSL). The decision to restructure the company was taken by its former chairman Janaka Ratnayake in December last year and the Central Bank issued necessary directions to enable the company to strengthen its financial position, a senior official of the Central Bank said.
He noted that consequent to the fundamental rights application filed by some investors of F&G Property Developers (Pvt) Ltd and F&G Real Estate Co Ltd, the Supreme Court issued a stay order to F&G on June 1, 2009. These developments restrained the day to day business operations of the company. On October 23, 2009, the Supreme Court lifted the stay order issued on the company and currently, the Managing Agent has taken steps to continue business operations.
He said that the company has no right to refuse the repayment of deposits on maturity unless it has liquidity constraints. He said that the Central bank has not been informed about such a crisis by the F&G management.