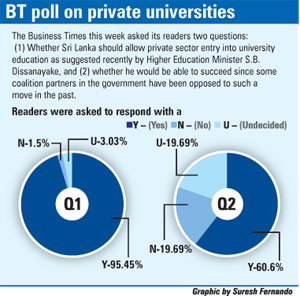 Not surprising, a Business Times email poll this week (which drew a tremendous response) found a majority of respondents in favour of opening out higher education to the private sector and foreign universities.
The paper asked two questions: Whether Sri Lanka should allow private sector entry into university education as suggested recently by Higher Education Minister S.B. Dissanayake, and whether he would be able to succeed since some coalition partners in the government have been opposed to such a move in the past.
More than 95 % voted in favour of opening out while on the second question was not as overwhelming (60 % in favour) with some saying the minister may find resistance. Nevertheless, some respondents pointed out that if President Mahinda Rajapaksa is backing the move he would be able to firmly overcome any objections.
More than 400 people responded to the poll on an issue that has dogged Sri Lanka for many decades: whether or not to freely allow private universities particularly in the medical field.
Related story