The occupational health and safety management systems of Logiwiz Limited have been certified with the Occupational Health & Safety Advisory Services 18001:2007 (OHSAS) certification by SGS Société Générale de Surveillance.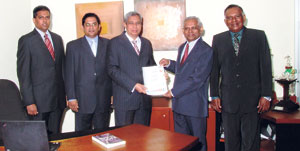 Picture shows Managing Director of Logiwiz Omar Raban (3rd from left) accepts the OHSAS 18001:2007 Certification from SGS.
Obtaining OHSAS confirms that Logiwiz demonstrates a commitment to implement, maintain and improve the way in which it manages its occupational health and safety systems. "This will facilitate the integration of quality, environmental and occupational health and safety management systems in the organization, promoting sustainability," Omar Raban, Managing Director of Hayleys Advantis said in a press release.
The certification leads to increased control and reduction of hazards through the setting of objectives, targets and evolved responsibility and encourages more effective internal and external communication while demonstrating legal compliance and increasng the company's reputation for safety and occupational health.