Sri Lanka's premier computer manufacturer EZY has joined The Editors Guild of Sri Lanka and the Sri Lanka Press Institute in rewarding all award winners a laptop computer at the annual Journalism Awards for Excellence 2009 to be held on July 27.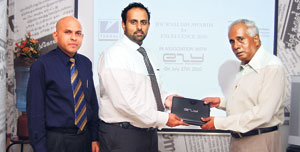 Picture shows Jude Tissera- Chief Operating Officer EZY, Shafraz Hamzadeen – CEO/Managing Director EZY and Manik De Silva – President Editors' Guild
EZY, a fully owned subsidiary of EZY Holdings, will be gifting 24 laptops to award winners in 14 categories, with the Journalist of the Year carrying the top award being rewarded with the company's newest product which is yet to be launched. The Editors Guild and the Sri Lanka Press Institute have been conducting the Journalism Awards for Excellence annually for the past 11 years recognizing journalistic achievement in the print media with the event regarded as the local ``Pulitzer,'' EZY said in a press release.
``We are very grateful to the various sponsors who have supported this event over the years,'' Manik de Silva, President of the Editors Guild, said. ``We are particularly fortunate that EZY and its CEO/Managing Director Shafraz Hamzadeen came up with the generous offer of gifting a laptop computer to the winners of each of the award categories.''
Mr Hamzadeen said his company was happy to make Lankan journalists more computer ``savvy'' and reward achievers. He also promised attractive deals to journalists on the company's range of computers.
Mr De Silva added that while a previous Journalist of the Year had been presented a laptop and the winner of the photography award had been given a camera, this was the first time when winners in all categories will be rewarded with a valuable tool to advance their professional capabilities.
The top Journalist of the Year will be gifted a Slimbook Lite laptop, ``light in weight and wide in view,'' the company's latest product, slimmer than an inch and weighing less than a kilo with a 13.3 inch screen, is unique for a laptop of its weight.