(Bloomberg) -- Raj Rajaratnam, the billionaire founder of the hedge fund firm Galleon Group, and ex-directors at a Bear Stearns Cos. hedge fund were among six people charged in a $20 million insider trading scheme by federal prosecutors.
Rajaratnam a Sri Lankan by birth, and a graduate of the University of Pennsylvania's Wharton School, was identified this year by Forbes as the 559th richest person in the world, with a net worth of $1.3 billion.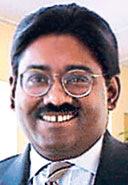 Raj Rajaratnam
Also accused were Rajiv Goel, who worked at Intel Capital as a director in strategic investments, Anil Kumar, who worked as a director at McKinsey & Co., and IBM Corp. executive Robert Moffat. The former officials at Bear Stearns Asset Management are Danielle Chiesi and Mark Kurland, who were affiliated with the firm's New Castle Partners, which managed about $1 billion.
Federal prosecutors have been investigating the case since at least March 7, 2008, when they obtained court approval to intercept a cell phone Rajaratnam used, according to one of two criminal complaints in the case. Prosecutors said they've also been listening to two of Chiesi's landlines since August 2008 and to the cell phone of a person they didn't identify who is cooperating in the federal probe.
"A number of the calls intercepted over the wiretap consist of Rajaratnam either providing, receiving, or seeking material nonpublic information about various publicly traded companies," the complaint says.
The six are charged with using insider information in 2008 and 2009 to trade in shares of companies including Google Inc., Polycom Inc., Hilton Hotels Corp. and Advanced Micro Devices Inc., according the complaints filed in Manhattan federal court today. U.S. Attorney Preet Bharara in Manhattan will hold a press conference today at 1 p.m. to discuss the charges.
Arrests
Five of the defendants have been arrested in the New York City area and will appear in the Manhattan court today. Goel was arrested in California.
Galleon said in a February 2009 press release that it has a "17-year track record in the alternative investment business specializing in long/short equity strategies." It has offices in London, Singapore, Mumbai, and Menlo Park, California.
Phone calls to Galleon were referred to an executive, George Lau, who didn't immediately respond to a message seeking comment.
Secret Tips
According to one of the two complaints, Chiesi got secret tips from an unidentified person at Akamai Technologies Inc. and from Moffat, who passed along information about IBM, Sun Microsystems Inc., and Advanced Micro Devices Inc.
"Chiesi shared certain of this inside information with Kurland," and they bought securities in the companies, the complaint says.
Chiesi also passed along tips to Rajaratnam, "who in turn provided Chiesi with inside information regarding AMD and other publicly traded companies," prosecutors said in the complaint. Authorities said that Chiesi made illegal insider trades with accounts affiliated with New Castle.
- Courtesy: Bloomberg