A 13-member high powered business delegation was in Sri Lanka this week representing major Fortune 500 companies, in search of investment opportunities in diverse industries such as infrastructure development, healthcare, financial services, power sector and defense.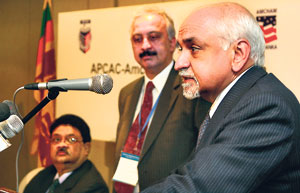 Visiting US businessmen
The delegation led by Vice Chairman of the Asia Pacific Council of American Chambers of Commerce (APCAC) Atul Singh representing the South Asia region, also the President and CEO of Coca-Cola India, said Sri Lanka needs to improve its infrastructure if it is to become a global hub following the end of the war. At a press briefing this week, Mr. Singh added there is more stability in Sri Lanka and that the government is in the process of building a roadmap to improve the situation in the North and East.
After meetings with several ministers including Public Administration Minister Sarath Amunugama, Mr. Singh said the government is looking to invest in the North and the East and promote inclusive growth. "There is a lot more stability now and that is the expectation going forward," he said.
Some of the American companies that were part of the delegation included Coca-Cola, Caterpillar, GE, DuPont, 3M, UPS and Kimberly-Clark. Other companies included Sikorsky Aircrafts Corporation, Rockwell Automation and Western Union, representing business interests such as FMCG, food and beverages, plastics, home care products and military and commercial helicopters.
Mr. Singh said the Sri Lankan government is promoting Sri Lanka as an attractive destination to invest for American companies and others, adding that companies were excited about the opportunities in Sri Lanka. He said the tourism sector is a very good opportunity as travelers look for security, stability and easy access. He suggested the helicopter business could be used for tourism as well.
Mr. Singh said the Sri Lankan government is willing to listen to the needs of investors and look at global best practices. He also said IT, engineering and science graduates need to increase.