Lankem Paints Ltd became the first local paints company to exhibit products in Europe, recently when they took part in Eurocoat 2009 in Barcelona.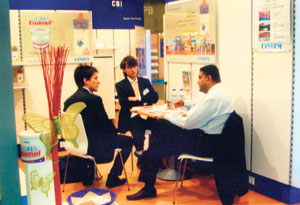 Ruwan Weerasinghe, Director of Lankem Ceylon PLC meets foreign visitors at the Lankem Stall at "Eurocoat 2009 Barcelona"
Eurocoat a prestigious coating show which attracts most of the industry experts worldwide, held its 17th show, the company said in a statement. Besides facilitating business transactions, Eurocoat also provides exposure to international innovations and trends.
Ruwan Weerasinghe, Director of Lankem Ceylon PLC quoted in the statement said, "With Eurocoat acknowledged as the main international trade fair for know-how and innovation in the global coatings industry, the exposure Sri Lanka got was truly invaluable to say the least.
The fact that we are accepted in Europe in terms of the quality of our offering is great satisfaction and pride. Not only were we able to explore the possibilities of new export ventures, but also made strong contacts with other global industry players for future projects".