Depositors of Ceylinco Shriram Capital Management Services have rejected the repayment plan put forward by the company in association with the consultancy firm Wealth Lanka saying that the plan was prepared without a clear identification and evaluation of assets of the company, while the Attorney General is also not in favour of the plan.
This was informed to Fort Magistrate Gihan Pilapitiya by way of written submissions when the Rs 6.8 billion Ceylinco Shriram fraud case was taken up for hearing on Tuesday. Counsel for the depositors Wasantha Wijewardane submitted that there was no clear procedure on raising the money required for the repayment scheme at present. He added that the proposed settlement being discussed only dealt with Rs.3 billion, but the suspects had cheated Rs.6.8 billion of depositors' money.
He also brought to the notice of the court that the company has no assets to make the repayment as almost all the assets indicated in the repayment plan had been mortgaged.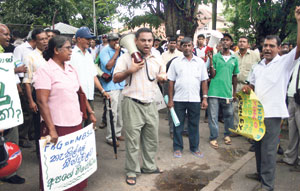 Depositors engaged in a protest
The head office of the company at R.A .de Mel Mawatha Colombo was under parate execution. Therefore the depositors urged the court to make an order to seize the assets of the directors and start the repayment of their money.In the repayment plan, Wealth Lanka clearly indicated that they have taken into account Rs.4 billion worth of assets to be disposed of, for the repayment of depositors only on information provided by directors and without perusing the documents.
Under these circumstances the Central Bank has been directed to conduct a proper evaluation of these assets through an independent audit. "All repayment arrangements should get the approval of the Supreme Court. We have made arrangements to meet the Attorney General and the Central Bank after that," said Deputy Solicitor General Wasantha Navarathna Bandara. He said that the Attorney General was not in favour of the proposed repayment plan.
The magistrate announced that he would consider granting bail to the suspects in the Ceylinco Shriram case once the repayment scheme committee was appointed and instructions received from the Attorney General.
The suspects in remand are Ceylinco Chief Lalith Kotelawala, Padmini Karunanayake, Hiran De Silva and Rajiva Wijetunge. The others - Sanka Wijesinghe, Ajith Gunawardene , Ruwan Sirisena, Nihal Peiris and Daniel Jegasothy are on bail.