The Sri Lankan government is urging American companies to invest in Sri Lanka, calling it one of the world's most promising destinations for investment due to its highly skilled labour force, geographic proximity to America's leading trading partners, economic liberalism and potential benefits from significant free trade agreements.
Addressing a visiting US business delegation this week in Colombo , Minister of Enterprise Development and Investment Promotion Anura Priyadarshana Yapa said an existing dichotomy in trade and investment between the two countries needs to be solved.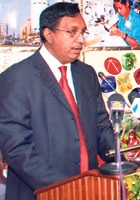 Minister of Enterprise Development and Investment Promotion Anura Priyadarshana Yapa
In terms of exports, the US is the largest market for Sri Lankan made products, buying 38% of the country's exports, mostly ready-made garments. Much still has to be done in terms of investment.
Mr. Yapa said there are currently 204 American enterprises in Sri Lanka that have collectively only invested about US$207 million as foreign direct investment (FDI). Most of those investments are in the IT sector. "It is therefore clear that much more can be done in that regard," he said.
Mr. Yapa also said that most significant in terms of free trade agreements is the GSP Plus under which almost all products manufactured in Sri Lanka enjoy duty free access to the European Union, which is the world's largest trading area.
Mr. Yapa added that Sri Lanka is committed to national reconciliation through economic development and employment. "Throughout our country there is considerable pride in the stellar manner in which the scourge of terrorism has been eliminated and we have equal confidence in our ability to rebuild the country and ensure peace and prosperity."
Mr. Yapa said this is where FDI will play a pivotal role in the process of healing the nation and reconstruction. "When this investment is injected into the Sri Lankan economy, the damage and loss of opportunity estimated at about US$ 200 billion in addition to the damage to our nation's very social fabric would be considerably reduced."