As Sri Lanka moves towards establishing stronger ties with non western countries such as China, Iran, India, Pakistan, Venezuela etc, it is useful to asses what our economic dependency is on the West, the EU region and the US.
This assessment was done based on facts and figures from official sources such as the Export Development Board, Board of Investment, Sri Lanka tourism, Department of commerce, Customs and registered stock brokers and the Central Bank.
Exports
In 2008 Sri Lanka earned nearly $8.1 billion as export earnings and out of this, over 50% came from six western nations accounting for $4.4 billion -- the United States, UK, Italy, Belgium, Germany and France. These six markets also fall under our top 10 export destinations in 2008 with the first three places are filled by the US, UK and Italy.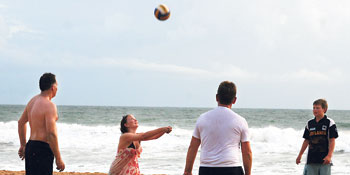 In 2008 167,187 visitors came from Western European destinations such as UK, Germany, and Netherlands. File pic shows tourists playing on the beach.
This has been more often the trend in recent years and is likely to remain the same for a while because local industries such as textiles and garments, activated carbon, rubber based products, etc are geared to cater to those markets and the consumer groups of those markets are also used to buy our products.
One important factor is that European and US businesses don't compete with our key exports either in their own markets or elsewhere in the globe.
Trade Balance
Sri Lanka's trade balance with some of the key western nations is highly in favour of us. Trade balance between US and Sri Lanka in 2008 stands in our favour at $1.58 billion. The US is Sri Lanka's biggest single country export market recording a staggering $1.88 billion last year.
Trade balance between the two countries has been in favour of Sri Lanka over the years as depicted in the chart below:
Trade balance between Sri Lanka and the EU (a block of 27 countries) also stands in favour of us, with $1.27 billion last year. We have exported $3.01 billion to the EU during that year.
Increasing exports to Europe is also a result of the EU including Sri Lanka in its GSP plus scheme, a trade concession given to just 16 countries. This helps our exports to EU region be competitive in that market.
Investments
Foreign Direct Investment
According to the Board of Investment 275 EU companies currently operate in Sri Lanka. Collectively they have invested an estimated Rs 204 billion in local projects and employes an estimated local workforce of 74,653 persons.
Apart from that 77 US firms operate in Sri Lanka under BOI terms and they have invested an estimated Rs 21.52 billion so far in Sri Lanka. Those US companies employ a local workforce of 24,502.
Fixed Investments
Sri Lanka gets a large number of fixed investments into its Government securities through fund managers and investors based in the West. The recent investment of $875 million in Government Treasury bonds was done by US-based Templeton Fund. Fund managers operating in western financial markets such as London, New York and Frankfurt are among over 200 foreign investors who have directed their dollars to Sri Lankan government securities.
Portfolio Investments
Western Fund managers too have a certain level of influence on the Colombo Stock Exchange (CSE) and a large number of western firms operating here in Sri Lanka have been listed in the exchange thus helping to increase the CSE market capital. To name a few -Ceylon Tobacco (a British American firm), Nestles from the US, Chevron Lubricants from the US and AVIVA of UK.
Tourism
The tourism industry is one of Sri Lanka's biggest foreign exchange earners and we see a large number of visitors arriving in Sri Lanka from European countries specially Western Europe. In 2008 we received a total of 438,475 visitors and out of that 167,187 visitors came from Western European destinations such as UK, Germany, and Netherlands. Those four EU countries altogether brought us nearly 135,580 visitors out of the total Western European arrivals to Sri Lanka. According to tourism experts, tourists from Western nations arriving in Sri Lanka do spend quite a considerable time and visit many parts of the island, which sees them spending much needed dollars during their stay.
Lenders
Sri Lanka's total foreign debt liability as at December 2008 stood at Rs 1448 billion. Figures show Japan is Sri Lanka's biggest lender out of all lenders amounting to a sum of Rs 426.9 billion as of December 2008, and the trend is likely to continue.
Sri Lanka's borrowings from Western countries is gradually declining with the Central Bank (CB) adopting a more diversified debt management strategy of going into non traditional lenders such as China who is lending at a higher scale and also the CB using other tools such as Sovereign bonds to raise loans on commercial terms.
Nevertheless the US, UK, Germany and France still remains in our donor list. They provide loans on a bilateral basis and various other forms which are important for development programmes. According to the CB, Sri Lanka's outstanding foreign debt liability for some of the Western countries as at 2008, December stood as follows.
Conclusion
Sri Lanka as a country should stand as a sovereign nation and not bow down to any unwarranted interference by any country. However such intrusion must be countered in a way that we don't lose our relationship cultivated with the world in the past through our non-aligned foreign policy. If we weaken our relationship with those countries it would be very damaging for the above economic links.
Adopting a diversified strategy for borrowing, finding new export markets, attracting tourists and generating foreign remittances from non traditional markets are vital in the longer run to achieve sustainability. But striking the right balance is also important for a country like Sri Lanka.
Good marketers are always on the hunt to find "new markets", but they make sure to safeguard the "existing markets". Otherwise a company will never be able to increase its market share. As Sri Lanka is likely to increase its production capacities in a post war investment friendly climate, it is extremely important that as we find new markets, we but must not lose existing ones.
(The writer is a TV journalist)