PELWATTE -- A new educational television channel – Nenasa – to supplement teaching of the national Ordinary Level syllabus, was launched islandwide this week from the Ranjan Wijeratne Madya Maha Vidyalaya, in the Moneragala district.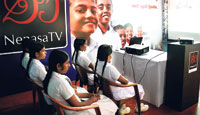 Children at the launch
Tucked away inside the Pelwatta sugar plantation, the Ranjan Wijeratne school is located in the Uva Province, one of the poorest regions in Sri Lanka. The school caters mainly to farming families in a dry, hot, neighbourhood that provides very limited economic opportunities.
"This school has enough teachers but the TV teaching can help to teach better and to teach new subjects," a parent, R. M. Piyadasa told the Sunday Times FT. The media were taken to the site by Dialog Telekom that is providing satellite broadcast facilities for the Nenasa Channel as part of the company's corporate social responsibility activities.
Mr. Piyadasa, a sugarcane farmer, has two children, a 16 year-old daughter and a 15 year-old son, attending the school. Parents like him and other visitors thronged the school compound on Monday, braving the July heat and oppressive security to 'see President Mahinda Rajapaksa,' who made a flying visit to launch the Nenasa channel.
The school also got a computer laboratory from the Education Ministry. Previously access to computers was a privilege available for a few better-offs, such as children of officials from the Pelwatta Sugar Company, children of teachers and other government officials, and a few business families. "They have now put computers to the school. So now our children can also use a computer. Up to now the school did not have computers. So only people with money were able to send their children for a computer course," said G.W. Appu, another sugarcane farmer with three young children attending the school.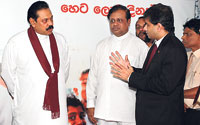 President Mahinda Rajapakse listens
Access to computers
But even now, the lack of teaching resources makes it difficult for rural schools like the Ranjan Wijeratne school, to provide a quality education. This is discouraging higher education in rural Sri Lanka.
"When I went to school a few years ago, school did not have computers. So I have never used a computer. For our A/Ls (Advanced Level examination), we could only do arts subjects because they do not teach A/L science here," said 26 year-old, K. A. Chanaki Piyadarshini, a past pupil of the school. Ms Piyadarshini studied up to her O/Ls and then dropped out of school. She is now married with a five year-old son and has relocated to another village. But now her son faces the same difficulties in accessing a quality education.
The Ranjan Wijeratne school still does not have the facilities to teach science subjects for the A/Ls. As a result, students wanting to follow higher education are all forced to do arts subjects only. But teachers of the school say the computer lab and the TV teaching channel are a major improvement. "The village children have already started using the computers. About 10 teachers were also trained to teach computers under an 18-day teacher training programme," said Ms Lasanthi Prinkara, who teaches agriculture to O/L students.
"Most parents in these areas don't have money to give facilities like computer training and tuition for their children. But they understand it is very important. So more and more children will use the computer lab. Lack of English is not a problem for them. They can understand when they are given instructions and through usage," said Ms Dammika Wijesekera, an O/L science teacher.
Bridging the gap
The Nenasa concept, is expected to address some of the resource constrains faced by rural schools. The channel will be initially available to 1,000 underserved schools, selected by the Education Ministry. It will broadcast lessons on selected subjects required for the O/L examination. Many rural schools lack teachers and other resources to teach subjects such as English, science and mathematics.
"Nenasa is a satellite TV channel. There are other educational TV programmes being shown already, but the difference here, is that the programmes are developed by the national education authorities themselves. They are developed by the National Institute of Education (NIE). The accent is on subjects that are compulsory for the O/L exam," Group Chief Executive of Dialog Telekom Plc, Dr Hans Wijayasuriya, told journalists.
Dialog Telekom says the educational channel, which is offered free of charge by the company to the national education authorities, can be used 24 hours daily, and can be accessed from any part of the country.
Meanwhile, as Ministers and high officials droned speeches under the shade of a white canopy, some school children had already found their way into the computer lab. The lab, had seven computers all equipped with Internet connections. With innate resourcefulness children with limited experience of the Internet had already enlisted help from more learned peers to surf the web.
"Earlier school did not have computers. So I went to Buttala to do a computer course. I know how to use the (MS) Word package and to go to the Internet," said Ms Prasadi Mihirani a 14 year-old student. Prasadi's parents work for the Pelwatta Sugar Company.
But even children with limited English knowledge and no prior computer training say these are not obstacles to use computers. For them, information technology is not scary or difficult, it's just another exciting new discovery.