WEERAWILA - Part of the taxes on mobile phones will be used to finance a mobile-waste management system (M-Waste Management) for Sri Lanka, says the Ministry of Environment. An agreement for M-Waste Management was signed in Weerawila, between the environmental authorities and the telecom company, Dialog Telekom Plc, last week.
"We will use funds from the Environmental Conservation Levy for the Mobile Waste Management programme. We are now also looking at systems to manage all electronic waste," the Minister of Environment, Patali Champaka Ranawaka, told the Sunday Times FT, after the agreement signing last Sunday, during a media visit organised by Dialog Telekom.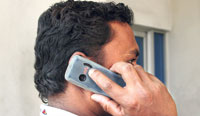 At the moment a 2% Environmental Conservation Levy is charged on all mobile phone use. The Ministry is hoping to use some of these funds for their intended purpose within this year. "We have not yet decided how much funds will be allocated. But the tax money will be used for electronic waste management and other waste management projects. Already for this year we have allocated Rs 150 million for plastic waste recycling," said the Minister.
The national authorities say electronic waste is now a pressing problem in Sri Lanka, threatening natural resources like water-ways and human and animal health. At this point Sri Lanka does not have a system to safely dispose of millions of imported elecronic items like computers, printers, fax machines, refrigerators and VCD and DVD players. Used electronic items, of all types, are thrown away without any precautions. This electronic waste is leaking harmful chemicals into the earth and water-ways poisoning plants, waters, people and animals. However, the new M-Waste Management programme will only take care of the safe disposal of discarded mobile phones. At this point one million mobile phones are estimated to be discarded in Sri Lanka. The disposal system will be operational from this week.
"Dialog offices all over the country will be converted into collection centres for people to hand over used mobile phones and accessories. The phones will then be sent to a central collection centre in Piliyandala, where they will be separated into components, like phone, battery and charger. These will then be sent to China for recycling, because at this point we do not have the facilities in Sri Lanka to recycle them," said the Coordinator, Corporate Social Responsibility at Dialog Telekom, Dulip Tillekeratne.
Mobile users do not have to make a payment for the recycling service. In fact, Dialog says the company will put aside a small sum, about Rs 50 per each phone handed in for recycling. This money will be directed towards a charitable cause. However, the M-Waste Management system is facing strong competition from second hand phone dealers. These dealers buy back used and broken mobile phones and resell the phones or phone parts – even when these items are not fit for use.