National carrier SriLankan Airlines is looking at bringing back domestic flights and is putting together a package of scheduled services, charters and on demand services. "Yes, we are seriously looking into re-introducing domestic aviation again. A feasibility is being done and there is a strong possibility of a re-introduction of the popular floatplane operations," said the Manager, Media Relations at Sri Lankan Airlines Ms Ruvini Jayasinghe.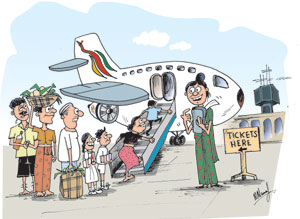 The feasibility study is looking into the possible domestic aviation opportunities. The company says it already has the required networks and infrastructure to enable a quick take off. "We are looking at the domestic aviation options. Floatplanes are one of them. When we suspended floatplane operations a couple of years ago, it was just picking up and was well accepted by the tour operator community overseas as well as by golfers and the business community. In terms of infrastructure, we have a well established structure in place. So the roll out, once a final decision is taken, is not going to be a long process," said Ms Jayasinghe.
SriLankan's domestic flights will visit the popular beach destinations of Bentota, Koggala, Dickwella and Weerawila, and the cultural triangle destinations of Anuradhapura and Sigiriya, and the hill stations of Kandy and Nuwara Eliya. The East coast and the Northern Peninsula will also come into the flight map with tourism growth.
The company is also looking at flights into Colombo. A feasibility, on using the Kelaniya river to operate floatplanes, has already been completed, and SriLankan says flights will start as soon as they are cleared by the defence authorities.
SriLankan is also evaluating new international flight destinations for the winter tourism season this year and has already started expanding its flight network through code share operations. Tourism is expected to pick up this year with the end of the nearly 30-year armed conflict. The airline says it will increase frequency of flights based on demand and has already increased capacity by upgrading from short range A 320 aircraft to medium and long range A 330 aircraft.