Hundreds of members of the F&G Depositors' Association protested outside the Supreme Court on Wednesday ahead of tomorrow's court case when the Attorney General is expected to present a payment plan to the Supreme Court which was earlier rejected by the F&G Company Limited depositors.
Several hundred depositors lined the entrance and the streets surrounding the Superior Court Complex, waving signs and banners questioning the lack of action taken by the Central Bank (CB) as regulator. The protestors also held that the rejected payment plan which will be presented to the Supreme Court is a way for the board of directors to buy time.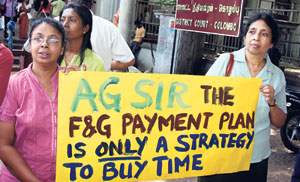 Protestors outside the Supreme Court. Pic by Berty Mendis
These depositors who are from Property Development Limited (PDL) and Real Estate Companies Limited (RECL) which come under the F&G Group said the rejected payment plan would allow the companies to hold onto all of their money for almost seven years with only a little interest being paid. The depositors will not receive any interest on their capital for the next six months. After the six month period, the depositors will get 2.5% of their capital within 2 years. After the 2 year period, the depositors will get 1.25% of their capital within the next 3 to 5 years. The depositors will also get a monthly 1.125% from the capital plus the balance from capital with the interest payment.
Furthermore, for depositors who received more than 22% interest in 2008, the additional interest will be deducted from the capital. There is also the option of receiving 25% of the capital in the form of shares instead of receiving 2.5% of the capital within the two year period.
The managing agent for F&G Finance Company is Merchant Bank of Sri Lanka (MBSL) whose Chairman Janaka Ratnayake said that the Directors of PDL and RECL have drawn up the repayment plan which the depositors have rejected and it was neither supervised or endorsed by MBSL. He said MBSL drew up a separate plan about four months ago which was also rejected by the depositors. Mr. Ratnayake added that a plan should be drawn up based on the assets and liabilities of the particular companies. "The companies cannot pay investors now because they don't have liquidity at this time although the investors need money immediately."
Mr. Ratnayake suggested that the depositors, the companies and the regulator should meet and come up with a comprehensive plan that the depositors should accept. He added that it will require all three parties to compromise.
Mr. Ratnayake said F&G Finance is a subsidiary of PDL and RECL. PDL and RECL have approximately 7000 depositors and an estimated liability of Rs.13 billion. The fundamental rights petition by the depositors was filed in early June 2009.