Credit cardholders are paying high interest rates on unsettled balances without realising that they are caught up in a huge debt trap. Believe it or not the country's leading commercial banks including HSBC, Standard Chartered, Sampath, Seylan, Commercial and Hatton National are levying interest rates ranging from 36 % to 48% per annum on unsettled balances with cardholders unaware they are accumulating huge debts.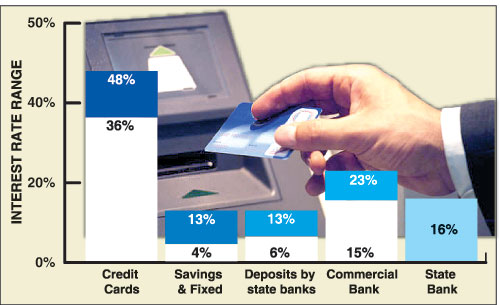 Two state banks and some other private banks levy an interest of 31 to 36%. A senior banker told the Sunday Times FT that when people use plastic instead of cash, they spend more because they don't feel the same as when dealing in cash. They end up borrowing money to fund their lifestyle and run into problems if their credit card balances escalate and are unable to repay the debt. However, banks say their recoverable rates are manageable.
All the banks also enforce late payment penalties ranging from Rs.100 to Rs. 650 a month. The Sunday Times FT found that banks make a lot of extra income from the same card in terms of late payment fee, limit enhancement fee, insurance, etc and at the end of the day credit cardholders pay all these fees plus the high interest rate. Although the Central Bank has cut interest rates, most credit card interest rates haven't dropped.
Average interest rates for deposits (savings and fixed) in commercial banks are in the range of 4% to 13 % per annum while their average lending rate varies from 15% to 23% . Average interest rates for deposits (savings and fixed) in state Banks range from 6% to 13% per annum while the lending rate is 16%, officials said.
Pan Asia Bank CEO Kimarli Fernando told the Sunday Times FT that their bank has reduced the credit card interest rate to 29 % per annum following a Central Bank request to cut interest rates. She said that a credit card is not just a debt instrument. Formany consumers it has become a tool of convenience - an easy way to pay their bills.
For those who are able to keep pace with their payments there is nothing to do with debt at all. However she noted that the people are delaying the repayment due to economic difficulties and most of them were not willful defaulters.
Other bankers said by paying more than the required minimum payment one can avoid mounting credit card balances. Analysing the payments done by credit card is also important. In countries like the US, Australia and the UK, credit bureaus and other agencies have conducted surveys that indicate the number of people who have accumulated huge debts by not using credit cards wisely. Such surveys caution the public on using credit cards and accumulating debt. In Sri Lanka there is a need to conduct such surveys and inform the public on making prudent decisions pertaining to their credit cards, a senior bank official said.
Interest rates of Credit Cards and late payment fee of local banks