The valuation of properties belonging to the collapsed Golden Key Credit Card Company and its subsidiaries by the Chief Government Valuer is now underway, Attorney General (AG) Department sources said.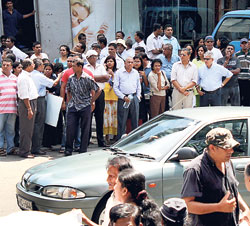 Golden Key depositors protesting
The main problems being encountered in this process is the non-availability of critical documents such as title deeds, survey plans, etc of these properties. Some of these documents were not available with the relevant authorities of the companies.
Credit facilities have been obtained by the Golden Key Company by mortgaging these properties as securities, AG's department sources revealed. A fresh valuation of Golden Key Eye Hospital is now being carried out to sell it.
Action is to be taken to dispose of a stake of Seylan Bank inclusive of the Ceylinco Seylan tower building expeditiously after a valuation has been carried out by auditors KPMG Ford Rhodes, Thornton & Co and the Chief Government Valuer. This will generate some funds to commence payment of depositors at an early date, a senior Central Bank official said.
Golden Key has debts of Rs. 26 billion of which Rs.12.7 billion is capital and Rs. 13.2 billion is interest (rebate) according to initial findings of a Supreme Court-appointed committee of chartered accountants. A sum of Rs. 844 million in credit card dues was outstanding from employees and related parties (equal to 3.2 percent of Golden Key's depositor liabilities) to whom statements will be sent soon "requesting payment in accordance with the court order."
Other debtors owe Golden Key some Rs 359 million, the committee report said. Meanwhile Mt. Lavinia Chief Magistrate Harsha Setunge on Thursday granted permission to Manoj Chaminda, 15th suspect in the Golden Key fraud case, to make a confession to the Court on August 6 considering an appeal made by him.
The Magistrate said that the confession of the 15th suspect could be used as evidence.
Ceylinco Consolidated Chairman Lalith Kotelawala's bail application was not considered as he has made an appeal for bail to the Colombo High Court.
The Mt.Lavinia Magistrate noted that a bail application filed on behalf of the second suspect Khavan Perera will be be considered at the next hearing. The 16th suspect Nallan Tuwan's bail application would be considered after the Judicial Medical Officer's report had been received, as the Court has been informed that the suspect is a critical cancer patient. The case will resume on August 20.