A new policy framework is on the way, to allow more private sector participation in higher education and to set up a separate body to overlook private and public higher education institutions in Sri Lanka.
"The Higher Education Policy Framework will be finalised shortly and will be presented to His Excellency the President.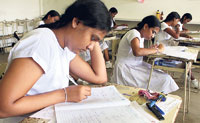 Students at the Advanced level exam
A major deviation in the policy, from the present system, is to involve the privates sector, because we have to accept that the state cannot bear the burden of education alone. Or that we should restrict higher education to a few State universities," said the Chairman of the National Education Commission (NEC), Prof. A. V. Suraweera speaking at a panel discussion during the launch of a new report by the World Bank on Sri Lanka's higher education sector. The report is called 'Towers of Learning; Performance, Peril and Prospects'.
Sri Lanka's higher education system is under fire for poor quality degree programmes, particularly external degree programmes, and poor quality post-graduate education, even in national universities. Private education meanwhile, is unregulated for the most part, with no quality assurance or accreditation systems. So the new policy recommendations will go towards improving quality of higher education, while increasing access.
"Degrees are offered even by state universities which are below standard. So the NEC is recommending a Quality Assurance and Accreditation Council to ensure standards. The council will be like an umbrella body over the UGC (University Grants Commission) and the NEC, and will also be responsible for the quality of non-state institutions," said Prof. Suraweera.
Quantity but not quality
The World Bank report notes that Sri Lanka has a higher education enrolment rate of 21%, which is actually better than expected for Sri Lanka's per capita income. But there has been a trade-off between quality and quantity. While expanding the quantity of graduates, the quality of education has dropped.
"There are a few centres of high quality, but a majority of higher education institutions are facing deep seated challenges. So the average of the system is lower," said Senior Economist from the World Bank, Dr Harsha Athurupana.
Many graduate and post-graduate programmes are considered poor quality. For instance, over half of those enrolled for higher education, are enrolled in external degree programmes (58%). But the external degree system is noted for poor quality of teaching. The result is very large numbers of poor quality graduates coming out every year.
"It is a case of registering, having exams and giving degrees. There is little academic or student support. So the quality of graduates is extremely low," said Dr Athurupana. "External degrees were expanded to increase access to higher education, and universities register external graduates in large numbers. For instance, Kelaniya University has nearly 100,000. Students see this system as a means of obtaining a degree without much intellectual effort. The quality of graduates is poor because of the way the courses are conducted," said the Minister of Higher Education, Wisva Warnapala.
This large output of low quality graduates has economic and political repercussions. "Most of the unemployed and under-employed graduates are from this category. They have been mobilised by a militant organisation to pressurise the government for jobs," said the Minister.
Post graduate programmes too, are afflicted by poor quality of teaching. The World Bank report says that only 2% of those in higher education are doing post graduate studies. "Our universities are mainly involved in degree teaching. Post graduate teaching has been neglected and even what is taught is not always of a good standard, particularly in the Arts and Humanities. Students are just registering for exams and submitting their thesis, without the required quality of research training. So even post-gradate qualifications must be subjected to quality controls," said Prof. Suraweera.
University culture
The local universities are also hamstrung by many other internal factors like the culture of violence inside universities. "There are students who indulge in violence for the sake of violence. I do not say they do not have grievances, but these can be tackled by the administration. But trivial student issues are used to mobilise students, which leads to destabilising universities. So student unrest, which is endemic in the system, needs to be addressed in planning reforms," said Minister Warnapala.
Sri Lanka's largely monolingual university culture, lack of resources such as computers and the large-scale brain drain of academics, are other factors that retard university education. In addition, almost total dependence on government funds has led to corruption and inefficacies that ultimately contribute towards lowering education standards inside universities. Sri Lanka also 'under-invests' in higher education, which is also directly impacting quality.
Given these problems, opening the door to more private sector, under proper supervision, is expected to improve quality and also the economic relevance of higher education in Sri Lanka. "Let us use the private sector. Once competitiveness enters, it will produce economic relevance and quality," said the Minister.