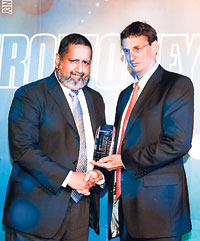 Rajendra Theagarajah, Managing Director/CEO Hatton National Bank receiving the award from Mr Simon Brady, Managing Director, Euromoney Magazine.
HNB was recognized by Euromoney as the "Best Bank in Sri Lanka" at the Euromoney Awards for Excellence 2009 in Hong Kong recently.
HNB said in a press release, that Euromoney the international finance magazine was impressed with "the bank for being able to post solid results during an economic backdrop that arguably worsened and a political situation that stabilized towards the end of the review period."
In awarding HNB as "Best Bank in Sri Lanka", Euromoney cited HNB as leading the way among the country's leading banks recording a post-tax profit of Rs 3.22 billion, up 6.5% on the previous year, with interest income the main reason for the 23.9% increase in total income to Rs 37.17 billion, the press release said.