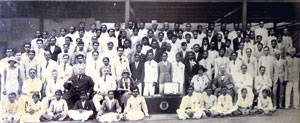 Staff of a bygone era
For those in the know about Sri Lanka's automotive history, Colonial Motors figures prominently. The first Sri Lankan company to hold agencies for Nash (long since defunct), Citroen, FIAT and Land Rover automobiles from the 1940s onwards, this institution recently celebrated its 100th anniversary.
Walking through the company's offices, located at Union Place, Colombo 2, one cannot help but notice a mish mash of old and new; that is, at least outwardly.
The present showroom, service and repair facilities of Colonial Motors and its subsidiaries, KIA Motors and Car Plan, appear to have grown organically from elements which previously made up the original building, circa 1909, as newer structures have been added on ad hoc. Over here, a decades-old tool used as recently as one or two years ago; over there, remnants of a no-longer functioning manual lift used to raise requisition documents and lower spare parts from stores located on the top floor.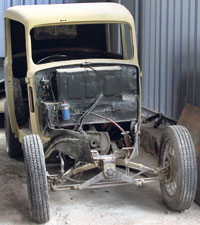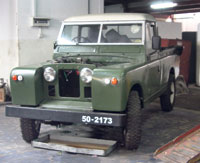 An old vehicle
In fact, it is interesting that the original building appears to defy today's norms, at least to the untrained eye, in that the first vehicles imported by Colonial Motors were hauled to the top floor for final assembly, this by means of a sloping driveway and a large winch.
Overall, despite outward appearances, it appears that surprisingly little has changed over the years for Colonial Motors. This 100-year old enterprise, which started out offering engineering services and selling Champion and Michelin parts (1910s to 1940s), later transitioned into car sales and now finds itself back in the spare parts market, an area which is responsible for a significant portion of its current sales.
Spare parts
Today, with group sales in excess of 250 million rupees, Colonial Motors makes more selling spare parts, such as TVS brake liners, for Tata and Ashok Leyland buses (the company is a preferred supplier to the National Transport Board), as well as from repairs than from total car sales, a situation which proves beneficial as it allows the company to place less emphasis on imports. The company's key attribute, according to its Chief Executive Officer, Mohan Ratnayake, continues to be its vast experience, especially in Land Rover repairs (a brand Colonial Motors once held for 45 years). Taking a moment, he highlights the example of Gopalan, an employee specializing in servicing with over 15 years under his belt, suggesting an innate ability to sometimes instinctively tell what's wrong, an attribute of years of experience.
Meanwhile, a public listing 30 years ago, in fact one of the first for a then fledgling stock exchange has seemingly evolved a company culture focusing on transparency and accountability which was far ahead of its time. Although practices of old allowed for frequent instances where children of employees were given preference for jobs, for example a current employee with over 20 years at Colonial Motors indicated that her father too had worked for the company for over 35 years, such practices have long since faded away naturally and now professional qualifications and experience hold the heaviest weight in hiring decisions. Mr. Ratnayake however is quick to point out that although nepotism does not play an active part in hiring, it is neither frowned upon nor preferred as such instances no longer arise.
| | | |
| --- | --- | --- |
| | | |
| Mohan Ratnayake | | Shivaji Supramaniam |
However, there is no doubt that a strong family dynamic has positively influenced employee loyalty towards the company, with most of its more than 80 employees having been with Colonial Motors for over 10 years; of those, nine employees have worked over 25 years and three even having between 30 and 40 years on the job. Many consider it a home rather than a workplace and remain throughout their work life, according to Customer Service Manager, Shivaji Supramaniam, himself a 32-year veteran of the company. A situation that sometimes proves to be disadvantageous, according to Mr. Ratnayake, as employees who have not been in any other setting may not always be current. A failing he intends to address with more new recruits to raise levels and take the required next steps.
FIAT 500
Reminiscing about a far gentler time, Mr. Supramaniam recalls that when he started working at Colonial Motors there were much fewer cars on the road while smaller car models, such as the FIAT 500 and 1100, were the 'fad' of the time; another indication of the cyclical nature of markets as today economical models have once again emerged as the current 'fad'.
He also spoke of instances that have become company lore, such as the time that a FIAT was suddenly unearthed in old storage space being cleared for other uses, a startling surprise, especially since nobody knew whose car it was, how it got there and how long it had been sitting there. He also remembers how frugal times were, recalling that when new Land Rover shipments arrived, usually three cars strapped together at a time in a 40-foot container, people used to come in specifically to acquire metal wire used to secure the vehicles together because the material was of such high quality and rare over here.
Riding the tide
So what's next for a company that prides itself on always being able to anticipate its customers? Or as Mr. Ratnayake says: "Ride the tide". A company considered to have no competition in the local market because of the level expertise it offers; a compay that first made its name in the 1940s and 1950s by selling Land Rovers primarily to plantations and FIAT 500 and 1100 models to families; a company that persevered through a two-decade lull in sales (1960s and 1970s) then rebounded with Land Rover Defender sales to the Armed Forces in the 1980s; a company that currently benefits from multiple, diversified revenue streams, including: spare parts; repairing Land Rovers (the company claims to be the leading provider of Land Rover spare parts and services in the country); KIA vehicle sales; and interest income from a 300 million rupee share portfolio acquired since the late 1970s. It's hard to determine.
Mr. Ratnayake's not saying anything, indicating that, since his primary responsibility is to the Colonial Motors board, it is inadvisable for him to speculate. However, he does let slip that there are plans afoot to diversify into new areas and franchises, and also, possibly, even some franchises that were held by Colonial Motors previously.