Women in the Anamaduwa Pradeshiya Sabha division are frustrated and desperate over inaction of the part of civil authorities to counter the menace of wild elephants which roam their villages at will. They are demanding an electric fence be constructed to ensure the animals could not enter the villages.
Around 200 women from Gallewa, Amunugama, Kelaththewa, Karabea, Mahathammanwa and Dehigahawalayaya villages thronged the pradeshiya office premises and paraded the streets of Anamaduwa. They appealed to Pradeshiya Sabha Secretary Ms. H.M. Sanjivani to help solve their problem.
When handing over a petition to Ms. H. M. Sanjivani, Ms R.M. Nisansala from Ranoruwa said they spent sleepless nights fearing the beasts would destroy their homes.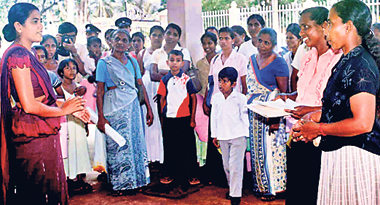 A section of the demonstrators meeting the PS secretary Ms. Sanjivani