Sixteen families that had escaped uncleared areas in the Wanni presented themselves to security officers manning the Omanthai Army road block recently.
The group of 39 adults and children turned up at the Omanthai road block on November 21, and are now temporarily residing at the internally displaced persons camp at Manik Farm and Arivithottam Shivanadan College in Chettikulam.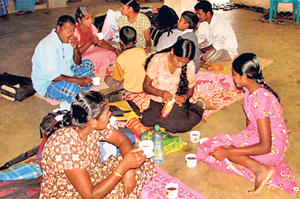 Some of those who have sought refuge
The Army officer in charge of security at both camps told The Sunday Times that there are altogether 175 persons from 73 families at the camps. He said the government was providing the inmates food and other necessities, while the army was providing security.
Lingadevan Thilakarani (47) of Sinna Adampan, Nedunkarni, was among the first group of families to arrive at Omanthai. She described life and conditions in LTTE-controlled areas.
"I can't remember when we last saw a loaf of bread," Thilakarani said. "The bakeries have been closed for almost a year now. And it's been months since my three children stopped going to school. The schools closed when the war started. The LTTE told us to come into their areas, but we didn't want to go because we knew what they would do. At the same time, although we wanted to go to the government-controlled areas, the LTTE wouldn't let us."
Thilakarani said her family heard on November 20 that the LTTE had left the area. That night, at 2am, under cover of darkness, the villagers left their homes and headed for Omanthai.
"We had to leave our cattle and our belongings," she said. "We walked for 20 kilometres, carrying a white flag. We arrived at Omanthai at about 8 in the morning." The families saw an abandoned LTTE bunker on their way to Omanthai.
"We went straight to the Omanthai Army checkpoint," Thilakarani said. "The Army gave us food and drink and sent us to where we are now."