Ninety percent of the population in the Wanni has been severely affected by the heavy floods caused by the torrential rains in the area.
According to Kilinochchi Government Agent N. Vedanayagam 225,000 persons have been displaced not only by the conflict but also by the floods and lost almost all their belongings. Most of the displaced are being housed in schools.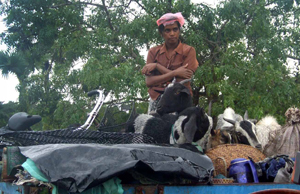 Flooded out people in the Tharmapuram area leaving with their belongings
Four deaths were reported and 73,523 families were affected with Sadilipay, Uduvil, Kopay, Tellippalai and Jaffna areas the worst hit. Around 3,500 IDP families were evacuated from Visuvamadu and Tharmapuram areas in the Kilinochchi district.
The sluice gates of several tanks including those of the Visuvamadu tank, Udaiyaarkadduk-kulam and Kalmaduk-kulam were opened due to their rapidly increasing water levels.
Meanwhile the Paranthan - Puthukkudiyiruppu road, Puthukkudiyiruppu - Mullaitivu road and Oddusuddan - Puthukkudiyiruppu road were impassable at several places. According to the Disaster Management Centre Trincomalee, Mullaitivu, Moneragala, Kandy and Matale districts have also been affected due to the heavy showers resulting in floods.
6,689 houses have been fully destroyed while 14,850 houses have been partially damaged in all these districts, it said.