One of the guests at Mumbai's besieged Taj Mahal Hotel last week was Unilever Ceylon Ltd chief executive officer Amal Cabraal, who returned to Colombo yesterday morning.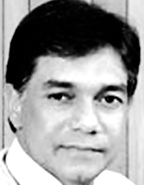 Unilever Ceylon Ltd chief executive officer Amal Cabraal
Mr. Cabraal was in Mumbai for a regional Unilever management conference, and was attending a dinner banquet with his fellow delegates on Wednesday night when terrorists stormed the hotel.
Speaking to The Sunday Times last night, Mr. Cabraal said all the Unilever delegates who had attended the conference and the dinner were unharmed in the terrorist incident.
"I was due to return on Friday, but in all the commotion I lost my travel documents," Mr. Cabraal said. "I returned home safely this morning. My baggage is still in the hotel. We managed to get out of the hotel safely on Thursday morning, and I informed the Sri Lankan consulate about my situation." Mr. Cabraal declined to elaborate on his experience in Mumbai.
he Sunday Times learns that the Unilever delegates heard the sound of gunfire coming from the front of the hotel, and hotel staff immediately took the delegates to another part of the hotel. They were ushered into a room and instructed to barricade the door with furniture.
The entire hotel was plunged in darkness when the management disconnected the power supply.
According to Indian police sources, the Unilever guests heard loud explosions, and when smoke started to fill the room they smashed open a window.