Education is widely seen as a key sector not only for students to pass examinations and get top posts but also to produce good citizens and tomorrow's leaders of high principles and integrity. But the education budget for next year has been slashed by a huge amount – a trend seen in the past few years. Educationists and others have warned that this huge slash in the budget – in effect downgrading of education – could lead not only to the closure of hundreds of small schools but an overall degradation of society.
Take for instance, Rajasinghe Vidyalaya at Dematagoda in the heart of Colombo. This school lacks basic facilities and students struggle in an unhealthy environment with a handful of teachers. They are virtually no desks in their classrooms, the roofs are leaking and on rainy days the situation is as bleak as their blackboards, if there are any.
Despite these and other difficulties, one of the school's grade five students, Sachith Yasaswin, passed this year's scholarship exam with 182 marks, the first male student to get the highest number of marks in this examination.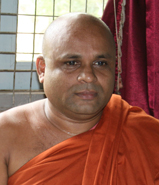 Ven. Rajanganaye Soratha Thera
According to vice principal Ven. Rajanganaye Soratha Thera, the facilities provided to them are grossly inadequate.
"We have been hit by a shortage of teachers for many years and made many requests to the ministry but little or nothing has been done. We lack other resources also. Education officials just come to check on reports and some documents in a routine way, but care little about the lack of resources," the Thera said.
With the Government slashing the allocation for education in the 2009 budget, many schools like Rajasinghe Vidyalaya, are likely to see a bad situation getting worse. For this year Rs. 5,259 million was allocated for education but it has been reduced to Rs. 4,619 million for next year – a cut of Rs. 647 million.
Due to the reduction of the education budget from 1997 to 2007, more than 660 schools have been closed down. Sri Lanka Principals' Union Secretary Lal Chandrakumara said schools which are under the purview of provincial councils were trapped in a political syllabus or agenda and principals were compelled to curry favour with PC members to obtain funds for schools.
"Of the 9,772 schools in the country, some 1,500 have less than 100 students. Smaller schools, especially in the rural areas, have many problems as their schools are seldom or never visited by inspectors. They are virtually ignored by the zonal office and their principals are not even invited for meetings of school heads," he said.
S.U. Kariyawasam of the Graded Principal Services Association said the reduction of the education budget would seriously affect students at a time when capital expenditure was increasing.
"As there is a clear discrimination in the distribution of resources among schools, the Government is setting the stage for private education in the country, but that will be only for the rich," he said.
The Sunday Times learns that the Western Provincial Council has used Rs. 100 million – money that was allocated to provide a daily meal to the students of schools that have less than 100 students -- to pay teachers' salaries.
"There is no doubt that next year too the salary anomalies of teachers will affect the studies of students," Ceylon Teacher Services Union president Joseph Stalin said, "About Rs. 3,000 million has been allocated to solve the salary anomalies of teachers, principals, and other public sector employees. The ministry itself admitted before the Salary and Cadre Commission that about Rs. 6,700 million was needed to solve the salary issue of teachers alone," he said.
The Examination Department will get Rs. 77 million less in next year's budget. (In the 2008 budget, Rs. 1,527 million was allocated to the Examinations Department but next year's allocation is Rs. 1450.)
Mr. Stalin said the reduction would lower the standard of the examination procedure and could lead to a situation where the education sector would be manned by unqualified personnel.
"The sector needs 200 SLEAS (Sri Lanka Education Administrative Service) officers. But we have only two permanent officers, while the other 198 are acting. These acting posts are held not by qualified persons but political appointees," he charged.
Mr. Stalin said many teachers were unwilling to do paper marking as they were not paid well. Millions of rupees have been slashed from the allocation for teacher training colleges also. Meanwhile under the Tertiary Education Development Project of the Education Ministry Rs. 2 million has been cut from the library development project, Rs. 150 million from building and construction projects and Rs. 7.2 million from English-for-All projects.
Also 4.7 million has been cut off from Education planning, Research and Development. Allocations for teacher training and development projects of the Education Ministry have been reduced from Rs. 918.5 million in 2008 to Rs. 902.5 million for 2009. This is a reduction of 16 million rupees.
The ordinary education development project under the Education Ministry is seeing a reduction of 585 million rupees in its capital expenditure. In 2009, a reduction of Rs. 3 million in the salaries of the Ministry for Higher Education and a reduction of Rs. 829 million from the capital expenditure of the University Grants Commission are also proposed.
Ceylon Teachers' Union spokesman Mahinda Jayasinghe said the reduction of the education budget showed what importance the Government gave to education.
"By this reduction, school activities will cripple, parents will do whatever they can to put their children to a few good schools. This could ultimately result in the education sector becoming one of the most corrupt areas," he warned.
The Education Ministry's Acting Secretary S. U. Wijeratne said the ministry was hoping to obtain more through supplementary estimates and also expecting US$ 10 million from the World Bank."This clearly shows the weaknesses of the provincial councils. They are unable to manage with the amount given to them. It is their responsibility and the ministry cannot do anything on this. We can't help but allow certain schools to die a natural death," he said.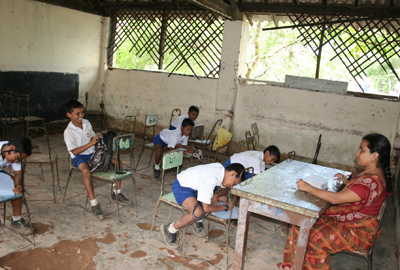 Rajasinghe Vidyalaya in the heart of Colombo lacks basic facilities.