MUMBAI, Nov 29 (AFP) - Commandos today killed the last remaining gunmen in Mumbai's Taj hotel to end a devastating attack by Islamic militants on India's financial capital that left 195 dead, including 26 foreigners.
Shortly after dawn on the third day of the siege, heavy gunfire and loud explosions signalled the final commando offensive against the militants, who had held hundreds of security personnel at bay for 60 hours.
"All operations are over. All the terrorists have been killed," Mumbai police chief Hassan Gafoor said, as the special forces units emerged from the smoke-filled hotel and firemen moved in to douse a fierce blaze.
On Friday, elite troops had stormed a Mumbai Jewish centre and killed two gunmen -- but also found eight dead Israeli hostages, including a US-based rabbi and his wife, who were murdered as the commandos closed in. Another luxury hotel that was attacked, the Oberoi/Trident, was declared clear of militants late Friday, with scores of trapped guests rescued and 32 bodies found.
"They were the kind of people with no remorse -- anybody and whomsoever came in front of them they fired at," an Indian commando said of the attackers. Intelligence officials said they were "all well-built and at the peak of their health, aged between 24 and 30, and were heavily trained in military tactics."
Mumbai disaster official R. Jadhav told AFP that 195 people had been killed and nearly 300 injured in the attacks, which began when the dozen or so militants split into groups to strike multiple targets across the city, including the main railway station and a hospital. TV channels described the attacks as "India's 9/11."
The foreigners killed included a total of nine Israelis, five Americans, two French nationals, two Australians, two Canadians, a German, a Japanese, a British Cypriot, an Italian, a Singaporean, a Thai and a Mauritian.About 15 security personnel were killed, including the head of Mumbai's anti-terrorist squad, who was cremated with full honours today at a funeral attended by thousands.
Eleven militants were confirmed dead and one, a Pakistani national, captured. One group entered Mumbai by boat, while others had arrived a month ago to stockpile arms and explosives and infiltrate the targets before the attacks were launched.
The crisis risked escalating into a major stand-off between nuclear-armed India and Pakistan, with Indian Foreign Minister Pranab Mukherjee saying that "some elements in Pakistan" were responsible for the assault.
A number of Indian officials suggested the militants were from the Pakistan-based Lashkar-e-Taiba -- notorious for a deadly assault on the Indian parliament in 2001 that pushed New Delhi and Islamabad to the edge of war. Pakistan President Asif Ali Zardari warned India against any "over-reaction" and vowed the "strictest" action if Pakistani involvement was proved.
The two countries have fought three wars since gaining independence from Britain in 1947. Survivors have given terrifying accounts of the carnage in the hotels. Many said they hid in the dark for hours, barricaded in rooms or hiding under beds, inside wardrobes or bathrooms.
"I cannot believe what I have seen in the last 36 hours. I have seen dead bodies, blood everywhere and only heard gunshots," said Muneer Al Mahaj, an Iraqi national, after he was rescued. South African security guard Faisul Nagel was having dinner with colleagues at a restaurant in the Taj Mahal hotel when the assault began.
"We basically put the lights off in the restaurant just to create an element of surprise. And we armed ourselves with kitchen knives and meat cleavers," he told AFP. They ended up helping about 120 people escape -- including a 90-year-old woman carried in her chair down 25 flights of stairs.
Television footage of the inside of the hotel showed half-eaten meals left on tables as diners fled for their lives. The restaurant walls were pockmarked with bullet holes and the floor covered with a thick layer of glass.
Witnesses said the attackers had specifically rounded up people with US and British passports.
Both the United States and Britain expressed condolences and offered to help investigate the assault on Mumbai, which has been hit by terror attacks before. Nearly 190 people were killed in train bombings in 2006.
India's newspapers laid much of the blame at the door of the intelligence agencies.
Lanka's Taj in crisis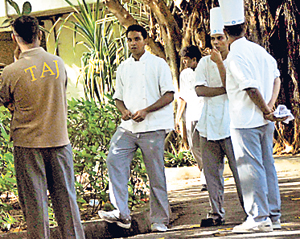 Protesting Taj employees
As the Taj hotel in neighbouring India was on flames its namesake in Colombo was crippled for several hours after workers belonging to a pro-government union launched a lightning strike over a bonus issue forcing the hotel to cancel or postpone some of the scheduled events.
The police were called in as a precautionary measure as the protesting hotel workers spilled on to the streets in a high security area. One of the events to be postponed was a cocktail function hosted by the UN.
The matter was later settled peacefully and the hotel returned to its normal functions.