The Sri Lanka Embassy in Thailand has requested the Ministry of Foreign Affairs to make arrangements to evacuate some 300 Sri Lankans left stranded in Bangkok since Wednesday, after Thai demonstrators forced the temporary closure of Suvarnabhumi International Airport.
"We are trying to charter a plane to pick up the Sri Lankans," Professor J. B. Dissanayake, Sri Lanka's Ambassador to Thailand, told The Sunday Times by telephone from Bangkok.
The embassy is seeking clearance for a chartered aircraft to land at a military base in Bangkok. The ambassador said about 300 Sri Lankans had called the embassy after the airport was closed, adding that there may be more locals stranded in Bangkok who have not yet contacted the embassy.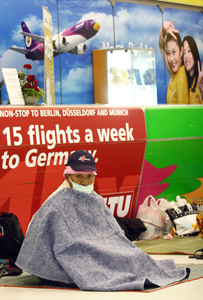 A Thai anti-government protester rests at Bangkok's occupied Suvarnabhumi international airport on Friday. AFP
Foreign Secretary Dr. Palitha Kohona confirmed there had been an informal request to charter an aircraft to evacuate the Sri Lankans, but said it was not a realistic option, considering that there were thousands of foreigners stranded in Thailand and getting permission to land at military bases would be difficult. "The Lankans will have to sit it out," he said.
The Sri Lankans and other passengers are being put up in hotels and are being well looked after by the Thai government, Ambassador Dissanayake said. Last Wednesday a crowd of 5,000 protestors blocked roads leading to the airport, saying they would not withdraw until the Thai government resigned. At present, no air traffic is moving into or out of Bangkok.
Ambassador Dissanayake said he did not expect an "immediate resolution" to the problem. Sri Lankans in Thailand told The Sunday Times that the Lankans held up in Bangkok included holiday-makers, passengers in transit, and a group that had attended an international gem exposition in the city.
Meanwhile, one Sri Lankan being put up in a Bangkok hotel said the Thai government was covering only bed and breakfast costs.
"We have to pay for our other meals, and we are also spending a lot on telephone calls to make alternative arrangements back home, because our work has been affected," he said.