In Mannar district more than 2900 families were displaced due to floods caused by the heavy rains in the area.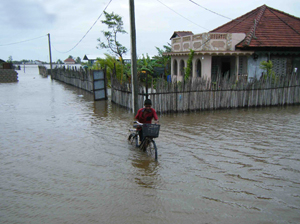 A flooded street in Mannar
According to the Disaster Management Centre 23,104 persons of 5136 families of Mannar district have been affected. Mannar Government Agent A. Nicholaspillai said eight villages were flooded and the families in them housed in churches and mosques.
He requested all parties including NGOs to come forward and help provide food and shelter.
The GA along with Disaster Management Ministry Coordinator Mohamed Riyaz visited some of those displaced and made arrangements for cooked meals to be provided to them.
In Talaimannar village most of fishing wadiyas were destroyed by a mini-cyclone while boats and fishing nets went missing.