The terror attack on major tourist hotels in Mumbai which claimed the lives of over 250 civilians has prompted the Sri Lankan Government along with the hoteliers operating in Colombo to tighten security in tourist hotels.
The Defence Ministry directed hoteliers to strengthen security measures within their hotels by way of performing better security checks and informing the authorities of suspicious behaviour in and around their premises.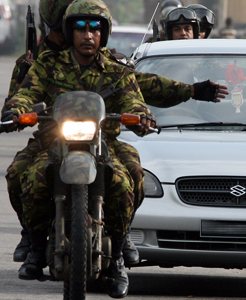 Armed STF personnel on motor cycles patrolling an area in Wellawatte where hotels are situated.
Tourist Hoteliers Association of Sri Lanka (THASL) president Srilal Miththapala told The Sunday Times that following a meeting with Tourist and Defence Ministry officials, the hoteliers had taken action to increase vigilance within their hotels.
"We will be performing identity checks on suspicious people while we are also working on reducing the number of entrances to some of the hotels so that monitoring guests would be easier," he said.
He said that the Ministry was also working on providing security outside the hotels without intimidating guests so that the trade would not be affected.
Defence Ministry Spokesman Minister Keheliya Rambukwella said that the Government had formed a partnership with the hotel industry in which any suspicious guests or activity will be reported to the authorities.
He said that better intelligence checks will be conducted on any suspicious guests who are checking into hotels to ensure that similar events do not occur in Sri Lanka.
Meanwhile, according to authorities local and foreign airlines are operating as usual as daily flights to Mumbai are continuing as scheduled with the Sri Lankan Airlines flight to Mumbai having successfully landed in Mumbai at 2.50 a.m. on Friday without any complications.